High vs. Low Beds: What Bed Height Is Right for You?
In pursuit of nocturnal comfort, mattresses get all the attention. Plush, large, small, foam, spring, all types of mattresses under the sun. It's easy to overlook the importance of bed height and its impact on your sleep health. Here, we go into more detail about the average bed height and why it's important.
What Is the Average Height of a Bed?
Average bed height is about 18-25 inches

An antique bed can reach up to 36 inches off the floor

A modern platform is typically about 18 inches high
Different Types of Beds, Bed Foundations, and Their Heights
The Standard Bed
A box spring and coil mattress are a standard bed and will be roughly 25 inches off the floor. This is considered an Ideal bed height as most people find it easy to climb into and out of. A standard bed will be roughly knee height.
The Platform Bed
A platform bed is a modern sleep solution that is typically 18 inches off the floor, including the mattress. However, platform bed heights vary depending on the leg height.
Interested in a high-tech foundation? Check out our adjustable base options.
The Antique Bed
An antique bed, while beautiful to look at, may be too tall for some and considered over the standard bed heights at 36 inches off the floor. The extra space under the bed allows plenty of ventilation to air out your mattress while providing some storage space too. Just don't pack too much under there, you need room for air to circulate under there too. This bed could be a good option if you're tall but might not be comfortable for those managing pain or in recovery from illness.
The Traditional Bed with a Standard Frame
A traditional bed with a standard frame consists of a headboard, footboard, and frame. These can be made of wood or metal. This is considered an Ideal bed height frame (like the box spring) as it's roughly 25 inches off the floor. Most ought to find comfort with this bed frame height.
The Futon
Futons may remind you of college days or crashing at a friend's place. They are an ideal fixture in a spare room or living room as you can use it as a couch most of the time. The bed height of a futon is similar to a platform bed roughly 18-20 inches off the floor.
Not sure what bed size is right for you? Learn more here.
Why Does Your Bed Height Matter?
Laying down in a cozy bed at night is vital to your overall health and well being. If you have a low on the ground bed, you could find getting in and out of it a chore sometimes. Also, when you need to change the sheets and bedding, you'll have to bend over, which can be troublesome if you have back pain. ideally, you want to aim for a bed that is roughly 25 inches off the floor. This seems to be the sweet spot.
What Bed Height Is Right for You? High vs. Low
Thankfully, sleep health has come a long way from those sacks of straw that humans used to sleep on. There's now a multitude of sleep solutions available to suit every aesthetic and comfort need. When choosing between low bed vs. high bed, you may want to consider the following.
Tip: Try and adjustable base with customizable height as well as adjustable head and foot elevation.
1) Age
Beds that sit high might be troublesome for older people as they can be difficult to get into and out of. However, a bed too high can be equally tricky for a younger person who does a lot of physical exercise. Climbing into bed with sore gym muscles is no fun so a typical bed height of 26 inches may be ideal for most. Conversely, if the bed is for a child, lower is better for their little legs.
2) Mattress Height/Thickness
Mattresses come in a wide range of profiles, affecting the overall height of your bed. For example, Nolah's thickest mattress, the seven-layer hybrid Nolah Evolution, is 5 inches taller than the Nolah Original.
3) Aesthetics
There are some design tricks to make your room look more spacious. For instance, wallpapering one wall and painting the rest makes the room appear longer. A bed low to ground gives the appearance of more open space. Conversely, beds that sit high could look more appealing in a room with a high ceiling.
4) Comfort
Creating a visually pleasing sleep space will make your bedroom inviting and calming. While aesthetics are important, a comfortable bed that you sleep soundly in is the most crucial thing to remember. When considering between high bed vs. low bed, opt for comfort above all.
High vs. Low Beds: Benefits and Disadvantages
High Bed Benefits
More under bed storage

If you're too tall for bed, a high base will be more comfortable

Easier to change sheets and bedding

Vacuuming under the bed is easier
High Bed Disadvantages
Will not suit a small bedroom

Not suitable for elderly individuals, small children, or pets to hop on

Difficult to climb into and out of if you're managing pain or recovering from illness/operation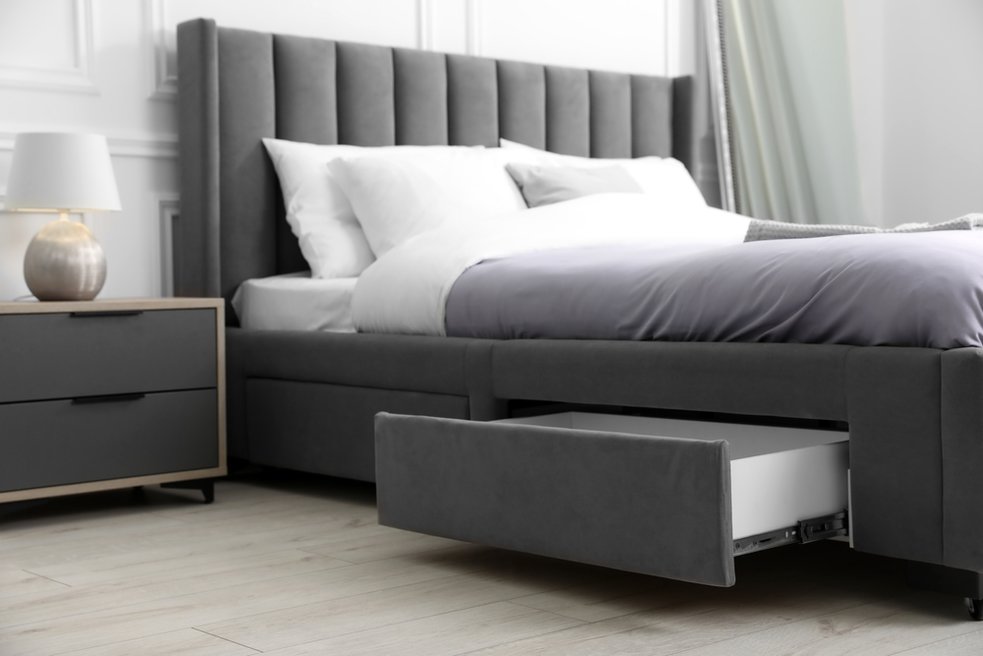 Low Bed Benefits
Low beds make the bedroom look bigger

Easy for children and pets to hop on the bed
Low Bed Disadvantages
Lack of storage under the bed

More difficult to clean under the bed

Difficult to climb into and out of if you're managing pain or recovering from illness/operation
Tips On How to Find Your Ideal Bed Height
Sit on the edge of your current bed and observe your posture.

If your knees are below your hips while you sit on the bed, your bed is too high.

How high is your favorite chair that you sit on every day? If this is comfortable for you to sit in and get up from, it's a good indication of a good bed height for you.
FAQs
What Is the Standard Height of a Bed Frame?
The standard height of a bed frame is around 25 inches off the floor. Which a standard bed frame, take note of your mattress height dimensions if you're buying a new mattress, an above-average mattress height will increase the overall bed height. A comfortable bed height must be easy for you to climb into and out of.
How High Should the Top of a Mattress Be From the Floor?
Your bed height is determined by your height and agility. If you're dealing with chronic pain or recovering from illness/operation, a standard bed height of 26 inches could be best for you. A low platform bed is a contemporary choice and will suit those who want to be low to the ground.
How to Raise the Height of a Bed Without Box Springs
Investing in a new plush mattress can raise you up higher, also a mattress topper could give you some additional height if you don't want to invest in a brand new mattress. Bed risers from your local DIY store could be an inexpensive option. Avoid wooden blocks as these will not be secure enough.
What Size Bed Should I Get for My Height?
Those under 6ft tall could find lots of comfort on a Queen bed height and Full size bed height, Twin XL, or King size mattress. A California king mattress is a wonderful choice for those over 6ft tall, this is the celebrity bed of choice. A California king mattress is 4 inches longer than a king mattress.
Check out our mattress buying guide here.
Conclusion
Choosing the right bed height is easy, consider your health, and if you will find it difficult or easy to climb into a love bed vs. high bed. Twin bed height is an adequate height for small-bodied adults and children. A platform bed is a contemporary choice and will look great in a modern home. A standard frame and mattress will suit most people, while an antique bed will suit larger rooms and taller people.
Disclaimer: Nolah does not provide medical advice. All resources on the Nolah blog, including this article, are informational only and do not replace professional medical counsel. Talk to your doctor about any health, mental health, or sleep-related issues.
You May Also Like These Articles
Don't Sleep on Exclusive Offers
Sign up for our newsletter, and you'll be the first to know about discounts, deals, and what's new at Nolah.