How Parents Can Find the Best Mattress for Kids and Teens
How to Shop Healthy, Clean, and Supportive Mattresses for Children
Sleep is fundamental to human health at all stages of life, but especially throughout childhood and the teen years. During sleep, the body releases the hormone responsible for growth, which kids need to build strong and healthy bones and tissues. Children also need plenty of rest to foster cognitive development.
But when it comes to kids, from toddlers to teenagers, getting sufficient sleep can be an uphill battle. Whether they're fighting nightmares or the temptation to scroll through Instagram one last time before bed, kids and teens need all the help they can get to fall asleep and stay asleep. Whatever you can do to make bedtime more inviting—like buying a comfortable mattress—can go a long way to encourage healthy sleep habits.
Not sure what to look for in a kids' bed? This guide will help you narrow your search for the perfect mattress that makes bedtime more comfortable and falling asleep easier for your child.
Mattress Sizes for Toddlers, Kids, and Teens
Before jumping into specifics about mattress materials and firmness options, you need to decide which bed size best fits your child's needs and their bedroom's dimensions.
From the cradle to their college dorms, kids usually progress through the following mattress sizes. However, you can always start your kid with a bigger bed than they currently need if you have the space in their room and your budget.
Toddler Bed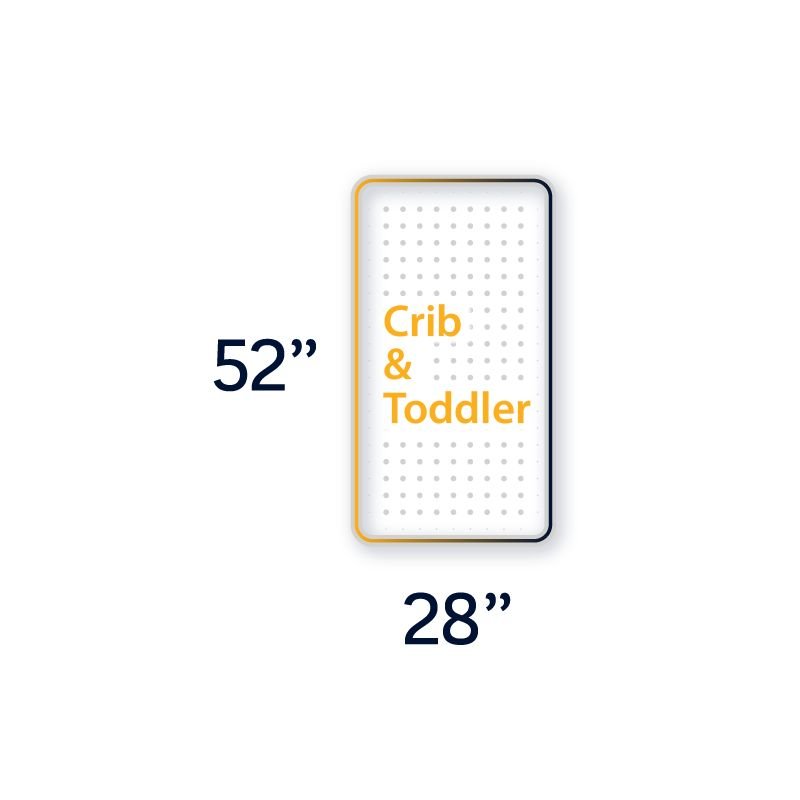 There isn't a standard age when children are ready to graduate from their crib to a bed. According to Parents Magazine, you should transition your child to a bed before they can climb out of their crib on their own and potentially injure themselves. Often, toddlers hit this benchmark between 18 and 24 months.
Safety is the number one priority for toddler beds. They typically lay close to the ground, and many have partial barriers to prevent young sleepers from rolling off the bed.
Most toddler bed frames accommodate the same size mattress as cribs, 28 inches wide by 52 inches long.
Twin Mattress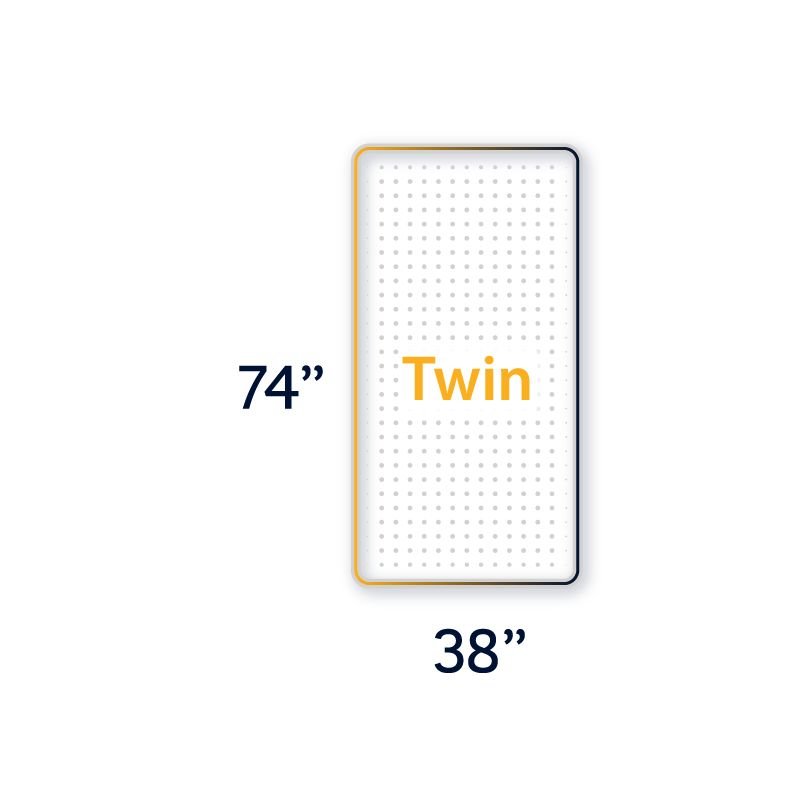 Twin mattresses measure 38 inches by 74 inches and comfortably fit a single sleeper up to 6 feet 2 inches tall. Perfect for a starter bed or a shared bedroom, twin-sized beds save space but still offer ample room for kids or growing teens. However, many teenagers want some room to move around and prefer a wider and longer bed.
Twin XL Mattress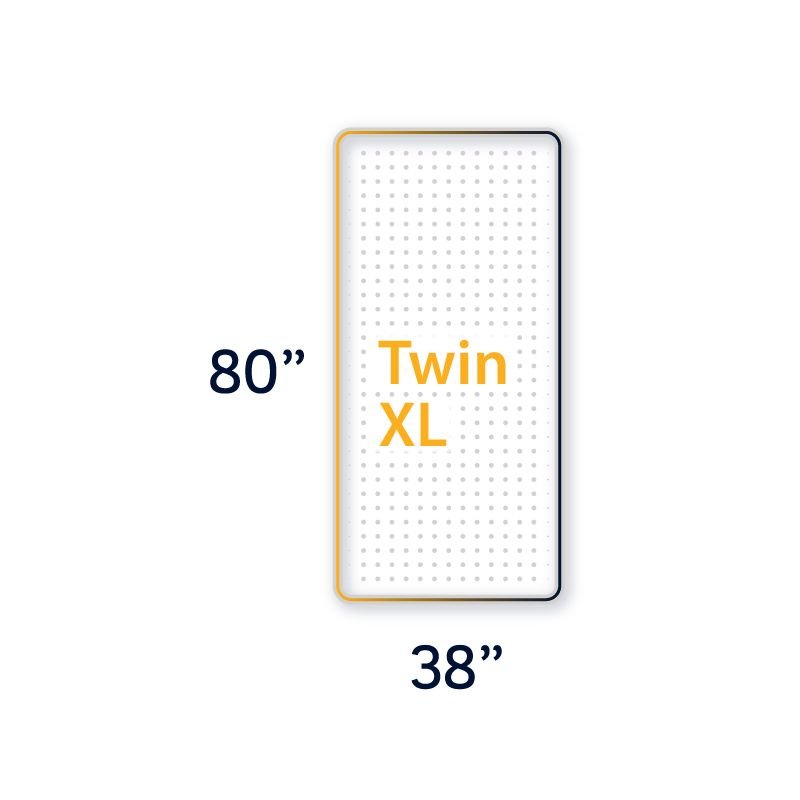 Twin XL mattresses have the same width as twin mattresses but tact on an extra 6 inches in length. They measure 38 inches by 80 inches and accommodate sleepers up to 6 feet 7 inches tall. The added length makes twin XL beds ideal for sprouting teens who may grow past 6 feet.
You may also consider this bed size if you want your teenager to take their mattress with them to college. Most dorms include a twin XL bed frame and mattress, but your kid can swap the mattress for their own if they want to sleep more comfortably or don't like the idea of a used mattress.
Full Mattress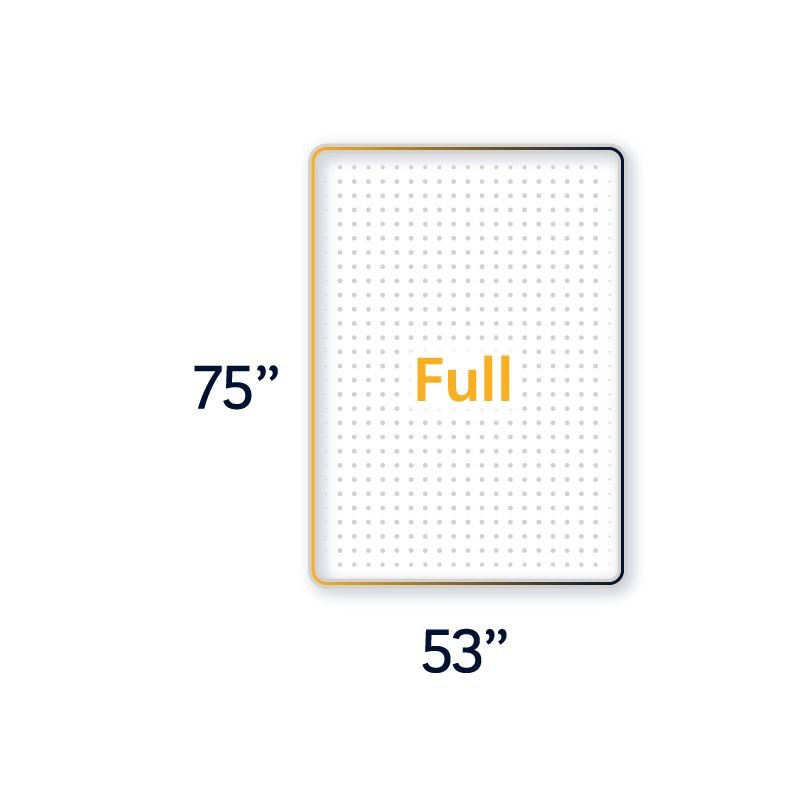 Full mattresses measure 54 inches by 75 inches, a happy medium between twin and queen-sized beds. They work well for kids and teens who want more wiggle room but don't have the bedroom space for a bigger bed.
Queen Mattress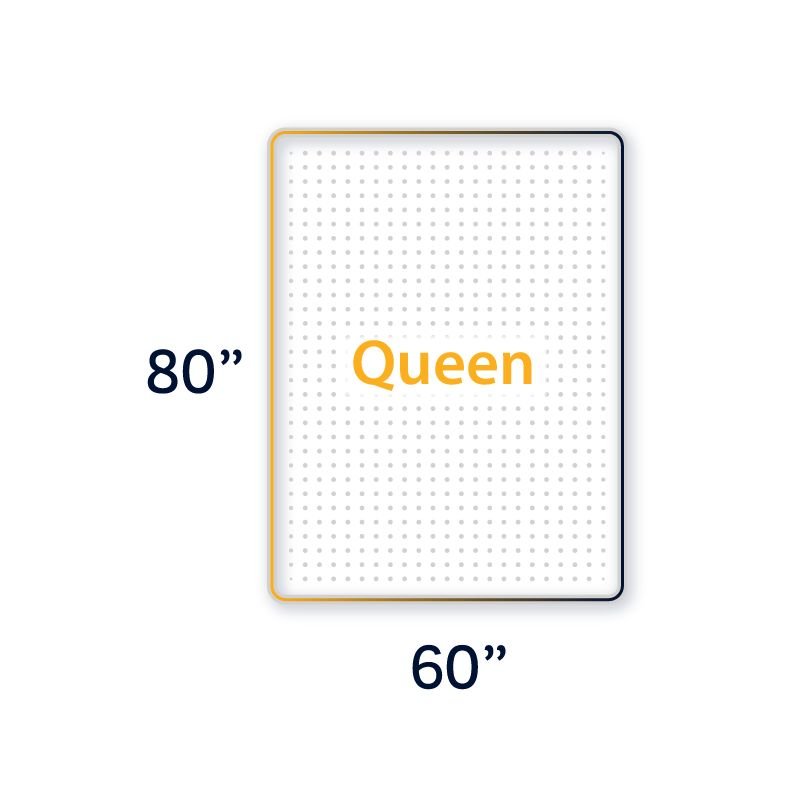 Your child will never grow out of a queen-sized mattress. If you have the budget for one, why not buy your kid or teen the most spacious bed their bedroom dimensions allow?
Queen mattresses measure 60 inches by 80 inches, offering all the space a single sleeper could need.
The Best Kids' Bed Qualities and Features
Once you decide on a mattress size, you can start comparing kids mattress makers and models. As you shop, we recommend looking for the following kid-friendly features and hallmarks of a high-quality mattress.
The Right Firmness
A lot of parents ask what mattress firmness is best for kids. As with adult sleepers, the "right" firmness or softness varies from person to person. That said, children do have specific sleep setup needs, and many share common preferences.
Mattresses range from extra-soft to extra-firm, or one through 10 on the mattress firmness scale. On top of that—no pun intended—the sleeper's weight determines how hard or soft the mattress feels to them.
Because children weigh less than adults, laying down puts less pressure on the mattress surface. In general, small children don't weigh enough to alter a firm mattress's foam or latex top layer. Kids who want a mattress that cradles and cushions them need a softer model that responds to light pressure and contours around their bones and joints.
Children grow at different paces, so it's hard to say when they need a plush mattress and when they need to switch to something firmer. If you want to buy one mattress that lasts your child from kindergarten to high school graduation, we recommend one of these two options:
When in doubt, opt for something in the middle. A medium-firm mattress, around a five or six on the firmness scale, provides plenty of support for developing bones and contours with moderate pressure.
A mattress in the middle of the firmness spectrum will also offer much-needed pressure relief to kids and teens who play sports and come home with sore muscles and joints.
Your kid may find a medium-firm mattress a little too stiff when they're very young, and teens with bigger bones may find it a tad too plush by the time they leave the nest. However, for the majority of their childhood and teen years, it'll feel just right.
You also have the option of a flippable mattress like the Nolah Nurture 8" kids mattress that offers a different firmness level on each side. Your child will likely prefer the firmer side when they're little, then make the switch to the softer side after a few growth spurts.
Double-sided mattresses are designed to "grow" alongside your child. They can last through their toddler, kid, and teenage years—and even into college if you choose an ultra-durable model.
Kids have accidents, make messes, and even if you tell them not to, they'll likely still jump on the bed every now and then. If you only want to buy them one, maybe two mattresses throughout their childhood, you have to prioritize durability.
How can you tell if a mattress is tough enough to last? Here's everything you need to consider when assessing how well a mattress will hold up against wear and tear.
Most modern mattresses consist of memory foam, other polyfoams, latex, or a system of metal coils (innerspring). Hybrid mattresses combine materials—usually coils and latex or coils and foam—for added comfort and strength.
Construction
In conjunction with the materials used, a mattress's construction determines its durability. Mattress construction refers to the thickness and density of the bed's layers, the coil system's design, and any additional protective or structural features.
To find the most durable mattress, look for one with at least a top comfort layer, a transitional or support layer, and a base layer. If you opt for an innerspring or hybrid, we recommend one with individually-wrapped coils.
For optimal durability and kid-friendliness, look for a bed with a built-in cover that keeps out sweat, spills, and allergens. Especially for foam-based mattresses, an extra protective layer goes a long way to preserve the integrity of the material.
Cooling
Just like adults, kids can get hot and sweaty in their sleep. To avoid night sweats and the resulting stinky sheets, look for a kids mattress with cooling capabilities.
Memory Foam– Memory foam mattresses generally sleep the hottest for two reasons: 1) The foam responds to temperature, not just pressure, to contour, trapping body heat in the process. 2) The chemicals added to memory foam to make it more flexible trap heat within the foam.

Nolah AirFoam™– Other foam mattresses may sleep cool, depending on the exact blend used to construct each layer. For example, Nolah AirFoam™ is not temperature sensitive, which allows heat to dissipate quickly. When considering any foam mattress, be sure to read the full product description to find out if the blend is breathable and temperature neutral.

Latex– Non-synthetic latex is temperature neutral and breathable, making the material a great fit for any child or teen who tends to sleep warm.

Coils– Innerspring mattresses allow ample airflow, keeping the interior cool and ventilated. Hybrid mattresses with a pocked coil base and latex or temperature-neutral polyfoam top layer also have cooling benefits.
Natural and Hypoallergenic
As a parent, you want to know exactly what synthetics and chemical additives your children are exposed to. Considering your kid will spend about eight hours a day in bed, you'll want to choose their mattress carefully if you have concerns about toxins or allergens.
Of the most common mattress materials, organic latex is the only natural, non-synthetic option. However, many innerspring, hybrid, and foam mattresses have safety certifications like CertiPUR-US® and Oeko-Tex®, guaranteeing they're free from harsh chemicals and toxins.
If your kid has allergies or asthma, you'll likely want a hypoallergenic mattress and bedding. Natural latex has innate antimicrobial properties, meaning it resists dust mites, mold, fungus, and other common allergens.
Conclusion
When children and teens get the sleep they need, they wake up energized and mentally prepared for a long day at school. With toddlers and younger kids, sleep is vital to their happiness and health. Plus, your child getting good sleep means you get good sleep.
Coaxing kids into bed is tough enough already, and if they don't like their mattress, it will only make matters worse. To ensure your child gets the best sleep possible, choose their mattress carefully and engage them in the shopping process.
Disclaimer: Nolah does not provide medical advice. All resources on the Nolah blog, including this article, are informational only and do not replace professional medical counsel. Talk to your doctor about any health, mental health, or sleep-related issues.
You May Also Like These Articles
Don't Sleep on Exclusive Offers
Sign up for our newsletter, and you'll be the first to know about discounts, deals, and what's new at Nolah.