Mattress Size Guide
Mattress Sizes, Dimensions, and Comparison Chart
In This Guide
What Mattress Size Should I Get?
Whether you need a new bed for yourself, your child, a guest bedroom, or a rental property, setting your budget and choosing a size come first in the mattress shopping process.
Selecting the "right" mattress size isn't complicated, but it does deserve consideration, even if you think you already know what you want. Your needs may have changed since the last time you bought a mattress, and you may not be familiar with all the options out there.
This guide will walk you through each of the standard—and oversized—mattress sizes available. It will also help you figure out how much space you need to sleep comfortably and which sizes your bedroom has the space to accommodate.
Mattress Dimensions
Mattress Size Chart
Size
Width
Length
Surface Area
*Size not currently offered at Nolah.
Note: Mattress dimensions may vary slightly between brands.
Mattress Sizes: A Closer Look
Crib and Toddler Bed Mattress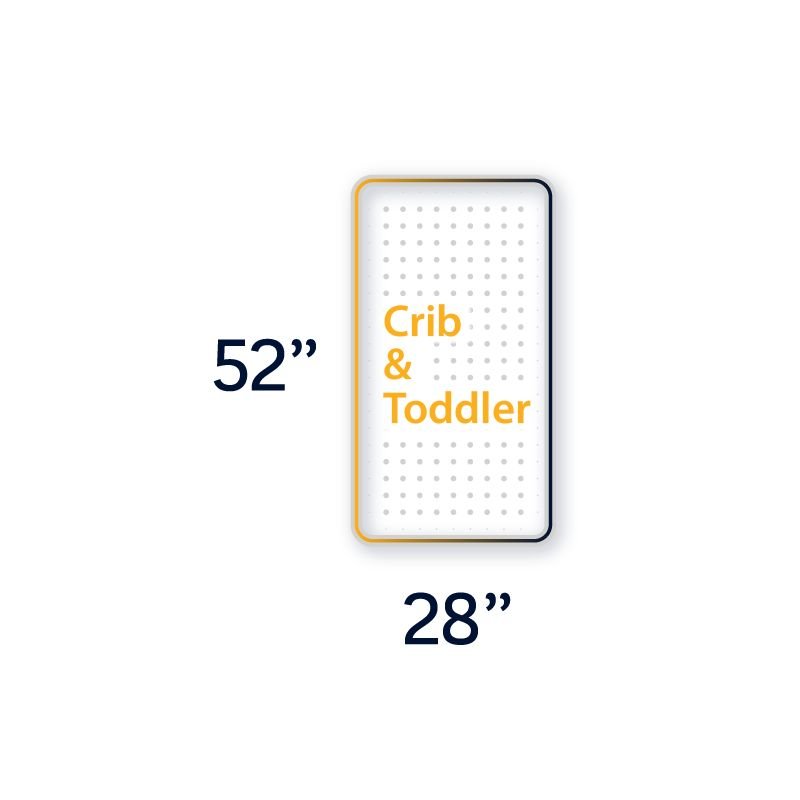 The very first mattress you buy for your child will likely be the cushion you slide into their crib. Some cribs come bundled with a mattress, but more often than not, you have to purchase the mattress separately.
Fortunately, your child can use this mattress for at least a few years. A standard toddler bed accommodates the same size mattress as a standard crib, so all you have to do is move the mattress to the new bed frame when your toddler graduates to their first real bed. You also have the option of buying a crib that converts into a toddler bed.
Parents preparing for a baby should know that not all cribs fit the same size mattress. While 28 by 52 inches is the standard, you'll likely see other options. In the U.S., crib mattresses must comply with the Consumer Product Safety Commission guidelines. They must measure at least 27.25 inches wide by 51.25 inches long and not exceed 6 inches high.
Twin Size Mattress
Dimensions: 38" x 74"
Best For: Kids and teens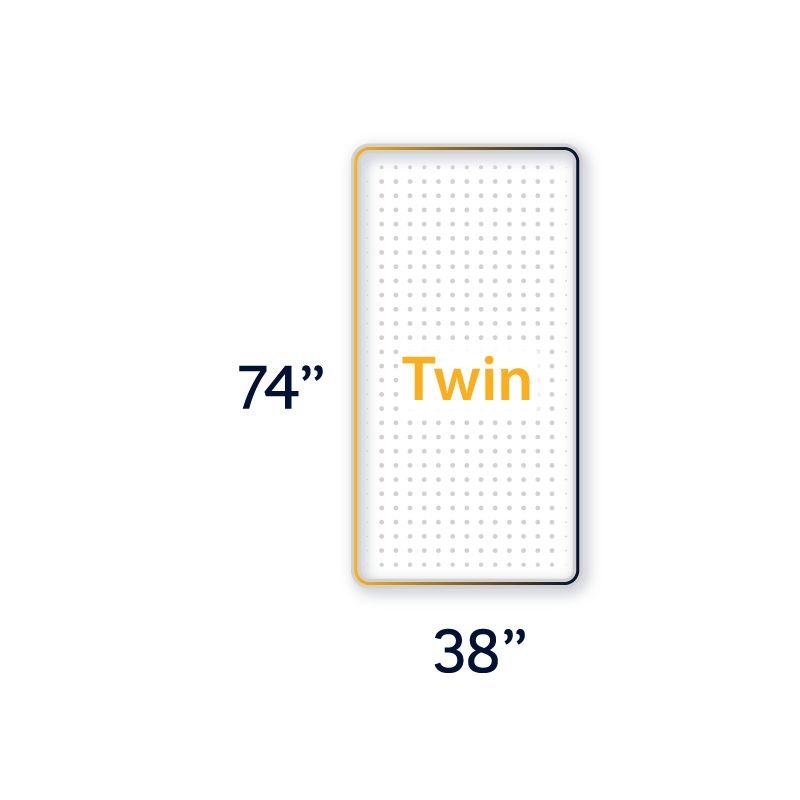 Especially if you have children who share a bedroom, twin beds make a practical fit. Most kids have plenty of wiggle room on a twin size mattress and can sleep comfortably in a twin bed through their teenage years. However, taller teens may need a bit more room to stretch out. We do not recommend a standard twin size mattress for sleepers 6 feet tall or taller.
The Nolah Nurture Kids' Mattress
Nolah now offers a flippable mattress designed to last your child from their toddler through preteen years. The Nolah Nurture has a Soft and Firm side, meaning your growing child will always have a comfortable option regardless of their size and age. Our hybrid kids' mattress features durable coils, gentle foam, soft organic cotton, and fire-resistant organic wool for cooling and safety.
Twin XL Mattress
Dimensions: 38" x 80"
Best For: Taller kids and teens, college students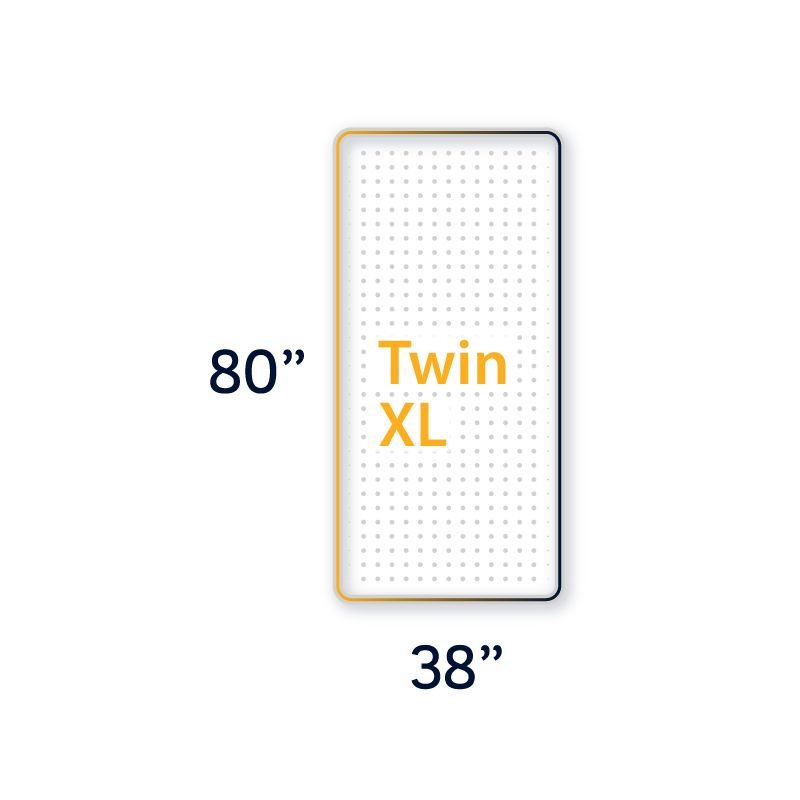 Twin XL mattresses provide the extra length required by taller kids and teens. They have the same width as regular twin size mattresses but tack on an additional 6 inches in length. Twin XL beds also make a good fit for single young adults with limited space; twin XL is the standard mattress size for college dorms.
Full Size Mattress
Dimensions: 53" x 75"
Best For: Teens, single adults, and guest bedrooms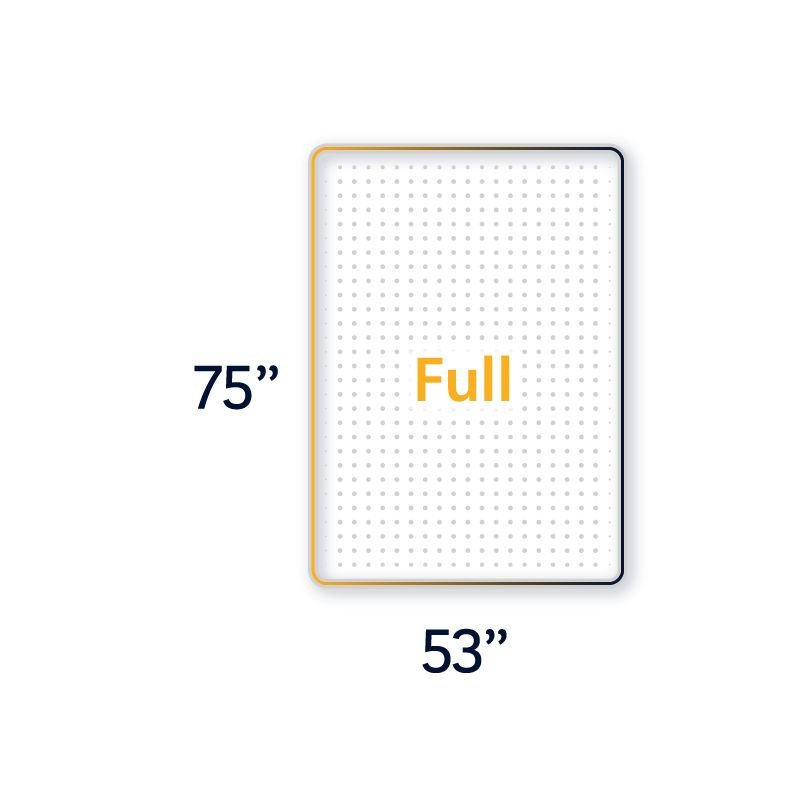 Full size beds, also known as double beds, provide more lateral space than twins. Compared to twin and twin XLs, they measure 15 inches wider. That's plenty of room for a single sleeper to sprawl out in bed. However, we suggest a wider option for couples.
Full mattresses have the same length as standard twins, making them a tight fit for individuals 6 feet tall or taller. If you like the width of a full size mattress but want additional length, you can opt for a full XL mattress measuring 53 inches wide by 80 inches long.
Full XL Mattress
Dimensions: 53" x 80"
Best For: Taller teens and single adults
Full XL mattresses have the same width as full mattresses (53 inches) but tack on an extra 5 inches in length. This makes them a good fit for single sleepers over 6 feet tall.
Short Queen Size Mattress
Dimensions: 60" x 75"
Best For: Single adult sleepers and couples under 6 feet tall, RVs
A short queen is a space-saving option for sleepers under 6 feet tall who don't need the extra 5 inches in length that a standard queen provides. Many RV beds are fitted for a short queen mattress.
Queen Size Mattress
Dimensions: 60" x 80"
Best For: Single adults and couples who want just enough personal space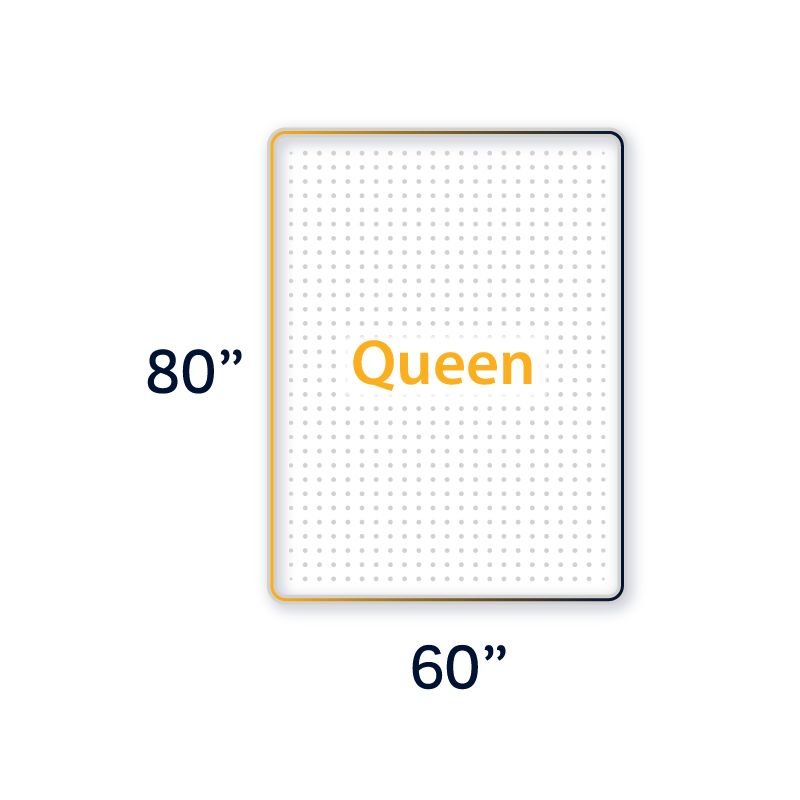 The next size up, the queen, is the most popular mattress size. A queen size bed makes a spacious oasis for a single sleeper but can also comfortably sleep two adults. You may want more room if you and your partner share your bed with a young child or pet or if one of you is a particularly rambunctious sleeper. Otherwise, you'll both have a comfortable amount of personal space.
Queen mattresses are both wider and longer than full size mattresses; they're the same length as king mattresses but 16 inches narrower.
Split Queen Bed
Dimensions: (30" x 80") x2
A split queen bed comprises two separate mattresses, each measuring 30 inches wide by 80 inches long. This setup is compatible with a split queen adjustable bed frame, allowing couples to adjust each half of the bed.
California King Size Mattress
Dimensions: 72" x 84"
Best For: Couples who prioritize mattress length over width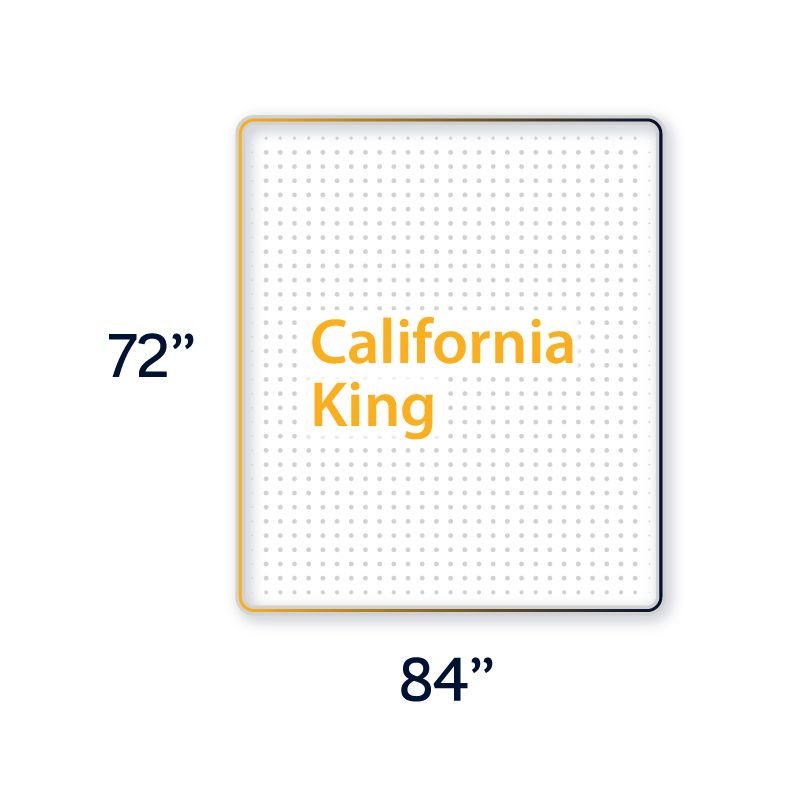 A California king—the longest standard U.S. mattress size—offers clearance for even the tallest individuals. California kings measure 7 feet long; for most sleepers, that leaves room for your furry best friend to sleep at your feet. While slightly narrower than standard king-size mattresses, California king mattresses are still one foot wider than queens and give couples space to spread out.
Split California King Bed
Dimensions: (36" x 84") x2
Again, with a split mattress, you can experience the full functionality of a split adjustable base. It's also easier to set up two smaller mattresses than one big one.
King Size Mattress
Dimensions: 76" x 80"
Best For: Couples, especially those with young kids and pets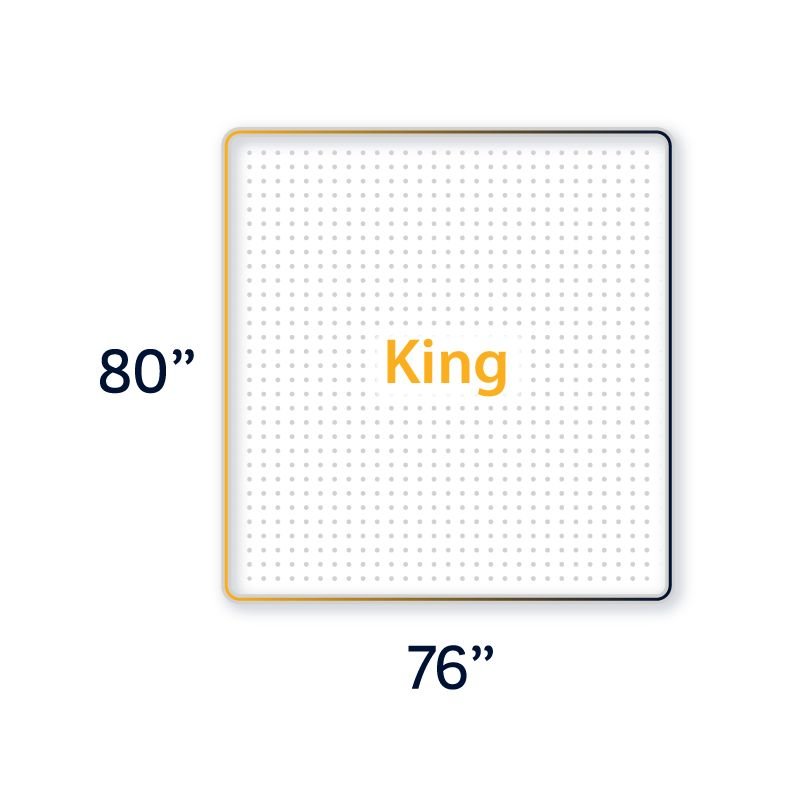 Sleeping on a king size mattress will certainly make you feel like royalty. A king is the widest standard U.S. mattress size; even if you and your partner like to spread out while you sleep, you'll each have more than enough room to stretch out and relax. King beds also make a great fit for couples who like to snuggle with their young children or pets in bed.
Split King Bed
Dimensions: (38" x 80") x2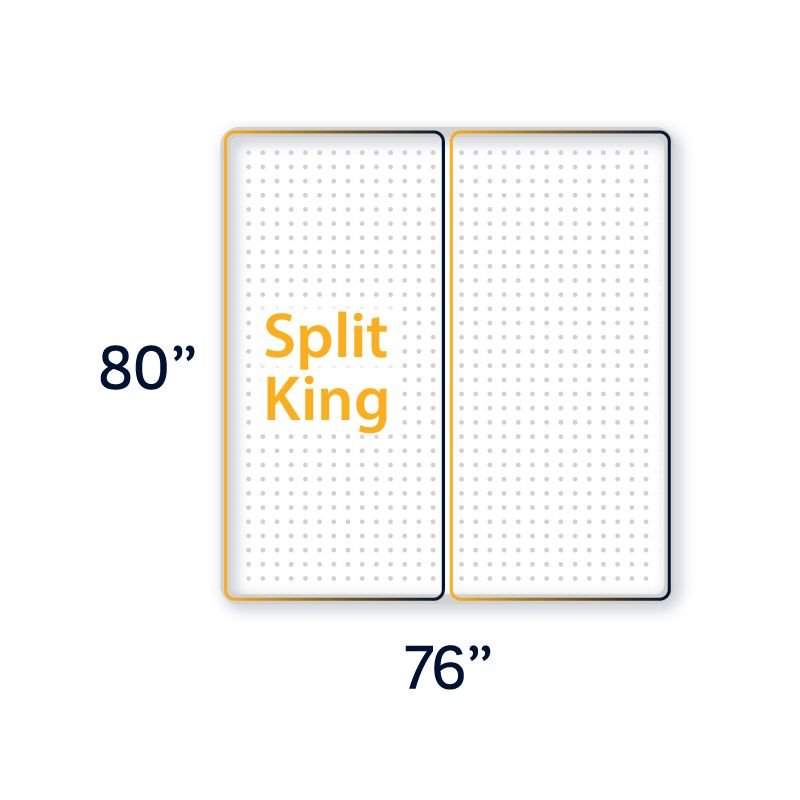 A split king bed has the same dimensions as a regular king but comprises two twin XL mattresses instead of a single king size mattress. To create a split king bed, you simply arrange the twin XL mattresses side by side on a king size base or bed frame.
Opting for a split king bed allows you and your partner to select your own mattress with your ideal firmness level and features. Just make sure you choose mattresses of the same height.
Also, many king size adjustable bases are specifically designed for split king mattresses. This setup allows you and your partner to elevate your side of the bed independently of the other.
Oversized Mattresses
Wyoming King Dimensions: 84" x 84"
Texas King Dimensions: 80" x 98"
Alaskan King Dimensions: 108" x 108"
Best For: Couples with a large, luxurious bedroom or who like to invite the entire family into bed for movie nights
Many people think California kings are as big as mattresses get, but if you want an even larger bed, you have options! Oversized mattresses are perfect for deluxe primary bedrooms, families, or couples with multiple pets that love to snuggle.
When comparing oversized bed options, pay special attention to the length-to-width ratio. While Wyoming and Alaskan king mattresses are square, Texas kings offer 18 inches more in length than width.
Split Oversized Beds
Split Wyoming King Dimensions: (42" x 84") x2
Split Texas King Dimensions: (40" x 98") x2
Split Alaskan King Dimensions: (54" x 108") x2
You can also find split versions of these oversized mattress options. Split configuration makes shipping and setup easier and ensures full compatibility with split adjustable bases.
How to Choose the Right Mattress Size for You
Choosing a size is one of the first steps of the mattress shopping process, which we discuss at length in our Mattress Buying Guide. Now that you have a clear picture of all your options, you should consider your sleep situation and needs. Thinking through these five factors can help you identify the perfect fit.
1. Room Size
Your bed may be the focal point of your bedroom, but you still need space for a dresser, nightstands, TV stand, desk, vanity set, clothes rack, or any other furniture you keep in your room. Plus, you want enough open space to walk around freely.
To avoid a cluttered, claustrophobic feel, we recommend leaving at least 30 inches of clearance on each side of your bed except the head that sits against the wall. Does your bedroom have enough square footage to accommodate this minimum clearance, your bed, and your other furniture? The chart below lists the ideal minimum bedroom dimensions for each standard mattress size.
Bed Size
Min. Room Dimensions
2. Sleeper Specifications
Next, you should consider how much you—and your partner, if you share a bed—need to sleep comfortably. Be sure to factor in your height, weight, and your sleep habits. For example, do you tend to roll around while you sleep or stay stationary? Do you spread yourself out like a starfish or sleep straight like a log?
If you need help visualizing which mattress size you need, refer to these rules of thumb:
If possible, choose a mattress at least 6 inches longer than your height or your partner's height if they're taller.

While a full mattress may fit two people in a pinch, we recommend at least a queen-size mattress for a couples' primary bed.

Think about your personal bedroom habits outside of sleeping. Do you read or watch TV in bed a lot? You may need a bigger bed if you like to lounge in it during the day.
3. Budget
Naturally, the bigger the mattress, the more it costs. If you need to keep costs at a minimum, you may want to stick with the smallest mattress size that still fits your needs. Have some wiggle room in your budget? Size up!
4. Bed Frames, Bedding, and Accessories
Keep in mind that if you upsize or downsize for your next mattress, you'll need a new bed frame and a few new bedding sets. You may also want to purchase a mattress protector or topper. When deciding on a mattress size, make sure you consider the total cost of a new bed setup.
With proper care, a high-quality mattress may last more than 10 years. Your circumstances may change in that time; for example, maybe you'll move in with a partner or welcome a child that will want to snuggle in bed with you. A mattress is a long-term investment, so you'll want to think long-term about your sleep needs.
What's Next?
Considering these five factors, you have all the information you need to pick the right bed size for your bedroom and your physical requirements. Once you select a size, you're ready to move on to the next step of your mattress shopping journey—choosing a mattress type. Our Mattress Material Guide explores the advantages and disadvantages of the most popular mattress materials and will point you toward the bed of your dreams.
If you still have questions about mattress sizing, check out the frequently asked questions below. You can also use the chat feature to connect with a Nolah mattress expert.
Frequently Asked Questions
Need help from a Nolah expert? Start a Live Chat below.