Skip to content
120 Night Trial
Lifetime Warranty
Free Shipping & Returns
100% Made in the USA
Nolah Original 10"
4.7 out of 5 stars
Our best-selling mattress combining cooling pressure relief with superior back support. Now comes with an upgraded snow-white Tencel™ cover for added comfort.
Remove 120-Night Trial Period
Maximize your savings and opt out of the 120-night trial period.
Opting out will still give you the full warranty, free shipping, and our amazing cooling pressure relieving AirFoam, but you'll no longer be able to return your mattress upon completed FedEx delivery.
No Trial Period, but Everything Else!
Superior Comfort at Unbeatable Prices
Free, contact-less shipping with FedEx
Lifetime Warranty
Cooling pressure relieving AirFoam™
120-night trial period and return
Nolah Original 10 Mattress Awards
Best Mattress for The Budget
Mattress Clarity
Best Mattress for Side Sleepers 2021
Slumber Yard
Best Mattress for Side Sleepers
Sleepopolis
Best Mattress for Hip Pain 2021
Sleep Foundation
Best Mattress Under $1000
Mattress Clarity
Best Mattress in a Box 2021
Sleep Foundation
Best Mattress for Side Sleepers 2021
Sleep Authorities
Try Risk Free for 120 Nights
In a mattress store, you get 5 minutes. With Nolah, you get 120 nights in the comfort of your own home.
SEE HOW THE TRIAL WORKS →
Optimal Cooling and Pressure Relief
The Nolah Certipur-US® certified mattress is scientifically proven to provide 4x less peak pressure on hips, shoulders, and back compared to high-end memory foam. Nolah AirFoam™ is 100% temperature neutral and made without heat-trapping viscoelastic chemicals to provide you with a cool and comfortable sleep.
Cooling Nolah AirFoam™
2" AirFoam™ provides superior pressure relief, keeps you cool and contours perfectly to your body without trapping you "in the mattress" like memory foam.
Deep Supportive High-Resilience Foam
1" support layer that is stronger and more durable than latex. It provides a healthy and responsive bounce to keep you sound asleep all night.
High-Density Base Foam
7" of the best U.S. made high-density breathable base foam that reinforce the support and contouring of the toper layers. It's durable and guaranteed to last for years.
Botanic Origin Tencel™ Cover
New snow-white Tencel™ cellulosic cover of botanic origin defines a new standard of sustainability and natural sleep comfort. 
"The Most Comfortable Mattress for Side Sleepers 2021."
"The Ideal Mattress for Side and Back Sleepers."
"Nolah is Cooler and More Durable than Memory Foam."
"The Coolest (temperature-wise) Foam Mattress Out There."
See Why Our Customers Love
the Nolah Original 10
All reviews below are from real customers that have reviewed their Nolah Original 10 mattress.
Donna Carbone
Verified Buyer
Great mattress
Love my mattress! Easy shopping experience, quick shipping, great price. I have had absolutely no pain since sleeping on this mattress. Used to wake up in middle of night with lower back pain. Cannot feel any movement from other side of bed. Mattress and pillows are super comfortable. Highly recommend
Brandy Huffman
Verified Buyer
Finally! The mattress of my life is here!
Bro, this company was so amazing! After reading the reviews I decided to purchase without the trial period; and I am so glad I did! I told my husband to go without, but he wasted $50! I have tried several other mattresses, including Nectar, Casper, and a spring and gel combo and everything hurt my messed up back. After reading all of the reviews, I was sure this was the mattress for me. (What can I say, I'm an optimist!).
Brian Schleife
Verified Buyer
LIVES UP TO THE HYPE
This mattress delivers. Excellent experience from start to finish. No problems. The mattress is definitely worth the price. My wife had hip pain from our previous mattress and after the first night that was gone. We were sure we would like this mattress and there are no regrets after the first month. Great job Nolah and don't change a thing.
Allison Chase
Verified Buyer
Wish I'd done it sooner!
Love it. Slept great from day one! Setup was super simple and I slept on it the first night. Worried it would be too squishy but totally wasn't. Came from a mattress with coils and super happy I made the transition.
Daniel McCruden
Verified Buyer
Great mattress, great service, great prices, all for a great night's sleep!
I am very satisfied with my Nolah mattress purchase. While it is one of many memory foam mattresses on the market, and TBH I was leaning towards some other brands when I was shopping for a new one to replace my 20-year-old Tempur Pedic; there was one thing that made me opt for this mattress. It was the fact that of all the top ten mattresses rated for 2021, Nolah was the only one I could find that still offered white glove setup and removal of your old mattress.
Great Sleep For Partners With Different Mattress Preferences
It was easy to purchase the mattress and shipping was much quicker than expected. I also received a personalized call from a customer service rep after my purchase to ensure that I didn't have any questions which was different from other brands. In terms of the actual sleep, I find myself falling asleep quickly and not hearing when my partner gets into bed. Additionally, my partner and I have different mattress preferences; he enjoys a very firm mattress and I enjoy a very plush mattress that you can sink into. This was the compromise and it actually worked out for both of us! We have no complaints and would recommend to friends!
Thomas Ritchie
Verified Buyer
Nolah Number Two
These mattresses are exactly what the claim to be. Had bought one in February and was so happy with it we bought another one for another bed. Being that we knew what was being purchased for the second time we took advantage of two discounts being $79 off for no return and $50 off for repeat customer. If you are a side sleeper you will be pleased.
LeAnn Messana
Verified Buyer
Awesome!!
It is great!! Shopping and delivery was exceptional, as was set up:) I am sleeping better and I feel supported in any position!
Carlos Trucco
Verified Buyer
Good mattress for side sleepers
Overall, the mattress is a real improvement from my previous memory foam mattress! I thought it would take me some time to start getting better sleep on the new mattress. However, I slept very well on the Nolah mattress the first night I used it! Two things I noticed about the bed that could be improved: 1. if you are on the edge of the mattress, you will slip off. 2. The mattress emitted a chemical smell for the first week or so. However, the off gassing is almost gone now.
Laura Wolons
Verified Buyer
love it!
Got my new mattress about a month ago. It was super easy to order and came really quick!!!It is a great quality for the price! I have knee and hip problems and now I don't wake up hurting everyday now! Absolutely love it! Highly recommend for side and back sleepers with hip and knee problems!!!
Olivia Young
Verified Buyer
It's like waking up in a gentle hug
Everything about Nolah has been GREAT. I love the quick response foam because I move a lot and always stay comfortable, then when I finally settle in the slow response foam gently hugs me in the coziest of ways without the heat! I don't even need to slide a leg out from under the covers to regulate!
Vanessa Hoyos
Verified Buyer
ON A CLOUD
My nolah 10 inch bed is like sleeping on a cloud! It's very soft but not too soft. I personally sleep on my back and my side and the nolah keeps me with proper spine alignment in both positions. If you're someone who likes feeling pressure relief when lying down this is the bed for you! I had purchased the nolah to replace my old mattress, that felt like sleeping on a rock. The nolah is no where near comparable to that! Nolah has exceeded my expectations, not only does it have A+ comfort but it stays cool! Overall it's just a great mattress.
Sarah Backes-Diaz
Verified Buyer
Soooo comfy and cool!
We've had our Nolah 10 for just over a month now and my husband and I LOVE it! We especially love how comfortable and supportive it is, that we don't feel each other toss and turn in the night, and it helps keep my husband who normally sleeps very hot, cooler than any mattress we've ever had! Thank you so much.....we are beyond happy with our purchase!
Kathleen Williams
Verified Buyer
Too comfy!
I bought this mattress for my mountain house. It's so comfy I don't think my guests will want to leave! I wasn't sure about buying something I didn't try out but it's great!! It was ready to sleep on in less than an hour. I was amazed. Love, love, love it!!!
Maria Butauski
Verified Buyer
Best mattress I've ever had!
We LOVE our Nolah mattress! The bed is just what we needed. My partner says the firmness is just right. I prefer a firmer bed and she likes a softer bed - but it's just right for both of us. It is comfortable for both of us - I'm a side or stomach sleeper and my partner is a side or back sleeper. I am making less frequent trips to the chiropractor. My back pain isn't gone - it takes more than a bed and a chiropractor to fix that (i.e., I need to put in the exercise and work on my posture) - but it improved after just a few nights of sleep on this mattress. Our dog also likes that this mattress isn't as high up as our old one so it's easier for her to hop up - an unanticipated perk. Great warranty and we went with the extra accidental warranty, because why not? And the pillows that we got for free with our purchase are THE BEST! Highly recommend nolah mattresses and pillows!
Donna Seller
Verified Buyer
Live in My Bed
I love my bed! Extremely easy process from ordering, delivery, online chat, great customer service, etc. I had back and hip pain for a year and even began going to physical therapy. Was not getting much relief and just assumed old age. In just one night, could feel a noticeable difference in pain level and body stiffness. One week with pillows and no pain. Best pillows ever; feel entire body in alignment now.
Lisa Hilleren
Verified Buyer
Just what I was looking for
I spent a lot of time trying to find the right mattress for me and am very glad I chose Nolah. I tend to sleep on both my stomach and my side so I was a little nervous about whether I'd get enough hip support with this mattress but after more than a full month sleeping on it, I can say it's definitely not an issue for me, as a smaller person.
Robert S Pavlik Sr
Verified Buyer
All is well in slumberland !!
The buying experience went well, no problems. The delivery was timely and without any problems. We followed the procedure to unpack and let the unit inflate. Noticed a slight odor, went away in about 6-7 hours. The mattress inflated fully in about 10-11 hours. I was impressed by how smooth and square it was ! Very nice craftsmanship indeed !! Now for the part you really want to hear, how did we like it ? I thought it was perfect for me ( 5' 11" & 150 lbs ), liked it very much. My wife thought it was too firm for her ( she is almost sized like me, but 8-9 lbs lighter ). So, I got a 3" memory foam topper for it, that did it for her ! So far so good for both of us, we have like sleeping habits . Looks like a keeper to us so far, I don't see that changing, unless it explodes, or something !
Sheila Joyce
Verified Buyer
G'ma Sheila loves Nolah
"My Nolah mattress is great! I am a 76 y.o. sceptic; did my homework and chose to try this mattress. No waking up because of sore joints and muscles. Much better than Memory foam; soft, yet supportive. Love the pillow too---no sore neck in the morning. Shopping experience was easy and delivery was quic"
Madison Losure
Verified Buyer
10's across the board
As someone with back problems, I was skeptical to buy a mattress online. And the price? I thought there was no way it could be as good as the reviews suggested and I'm SO happy I was wrong. This mattress is neither "firm" nor "soft".. it just cradles you like a wee babe as you drift into dreamland. Couldn't recommend more!
Beverly Brown
Verified Buyer
Relief from hip and knee pain
Since sleeping on the new mattress for about a month my hip and knee pain has greatly decreased.
Marianna Enaye
Verified Buyer
Love love our new Nolan mattress!
My husband has chronic shoulder pain and this mattress has been the most comfortable for him. He no longer complains about pain in the morning. I also find it sooo comfy. Highly recommend it!
Katherine Bechdol
Verified Buyer
Significantly decreased pain
I loooove this mattress. I have chronic neck pain and the sleep number bed I had been sleeping on the past 4 months has increased my pain. Within the first few days of sleeping on the Nolah I woke up pain free. Highly recommend this mattress!
Jennifer Domsich
Verified Buyer
No more back pain!!
I LOVE it!!! I've been waking up with back and shoulder pain for months and months! It's gone now!!
Erin Green
Verified Buyer
Puts my old mattress to shame
Easy to order, shipped on time. Bed is so comfortable that within days I knew replacing my old mattress was the right decision. I wake up refreshed and ready for the day. Have not had as much back pain as I used to have in the morning.
Danielle Dellino
Verified Buyer
No-Lah-nger going restless again!
Great mattress! As a side sleeper who has a smaller frame I used to always wake up at night because my arm or leg would fall asleep. Hasn't happened once on this one and I'm so happy to have it. It feels cool, comfortable, and I went from 6 to 8 hours a night and it's been perfect! Great customer service and answered all my questions. Definite recommendation. :)
Tiferet Valentine
Verified Buyer
What the body wants
Sleeping on my Nolah mattress a few weeks now. So far it hits a mega important thing on my list for choosing it - it sleeps cool. I use a very light hi tech comforter which holds correct body heat temperature, so I wondered what would happen to the mattress. I tested it several times and while my body was warm the bed felt cooler under my hand. Eureka! I sleep around 9 hours and change positions often. My back will probably never stop aching at my age as I shouldnt lie down for that long, but I'm SO comfortable. So far, Nolah is a win.
Jessica Bennett
Verified Buyer
A dream for my back
I've had back issues since I can remember, we swapped this out from our old mattress when we moved and it has been a serious game changer. It lets my hips dip when I'm on my side but supports my back, I don't wake up barely being able to move from being stiff. It's been an absolute dream. Keeps us both cool, I don't feel my partner rolling around when he can't sleep, which is another plus. Cannot recommend it enough.
Jennifer Rash
Verified Buyer
Restful sleep during a restless time
Nolah came along and saved the day during the pandemic. We all need a good night's sleep after stressful days juggling so many things from home. It's supportive, keeps me cool, and i wake up refreshed. Thank you Nolah!
Stephanie Johnson
Verified Buyer
Best Purchase Ever!
I am having less fibromyalgia pain and sleeping more sound. Also, this mattress is cooler than my hybrid was and I'm no longer walking up sweating! The pillows are also great, I do have to fluff them everyday but totally worth the effort in exchange for the comfort. I did a lot of research before I purchased this mattress, I'm glad I decided to go with Nolah Sleep.
Diane DeGroff
Verified Buyer
Waking up with less pain
Customer service is great, agent spent time with me on phone before my order to make sure all my questions were answered. Delivery was quick and unboxing was pretty easy as well. I had no issues with smells during the period when the bed was taken out of box and waiting to inflate fully. I have been sleeping in the bed for about 3 weeks now and am loving it. I suffer from degenerative disc disease and struggle with managing my pain. This bed has been a god send so far. I no longer wake up in pain or toss and turn trying to get comfortable because of pain. Very happy with this bed, thank you Nolah.
Debora Cooper
Verified Buyer
Sleeping Like a Baby
My shopping experience was easy and I slept like a baby the 1st night and every night since delivery. The mattress addressed my back and hip pain. Note, I purchased a medium firm mattress. I'm glad I found this mattress during my goggle search.
Jera Mosley
Verified Buyer
Just do it
Check out was simple and shipping was quick! We absolutely love the bed. We were skeptical about buying a mattress online but we don't have a single regret. Will definitely be recommending and would buy again.
Charles Ferguson
Verified Buyer
Good purchase experience.
"Speedy delivery! Customer service has all the answers! Very comfortable bed. Much better than our old latex bed. Soft, but still great support. Old arthritic body's, deserve good mattresses like Nolan!"
Kimberly Couch
Verified Buyer
Nolah us superb-ahhhh! How's that for catchy?
Shopping experience was easy, website was simple to use, customer service was fast, friendly and helpful. Opening the Nolah was fast and easy. Ready to sleep on that night after 10 hours of the mattress breathing. After the 3rd night, I did not have left hip pain from sciatic. I was able to sleep on my left side after over a year of not being able to sleep on the left. Thank you Nolah for the -ah in your mattress! Ah-mazing!
Use Nolah on Any Flat Surface
Use your Nolah Mattress on any type of bed frame such as box spring, platform, slatted base, foundation, or adjustable bases. If you use a slatted base or slatted box spring, the slats should not be more than 4" apart for optimal support.
FLAT PLATFORM
SLATTED BED
BOXSPRING / FOUNDATION
ADJUSTABLE BED
The Perfect Medium Firmness
Loved by side and back sleepers and top-rated by experts for its superior pressure relief and excellent back support. It feels like sleeping on a firm supportive foundation with a soft cushioning top that gently hugs your body's shapes and curves.
Cooling Temperature Neutral AirFoam™
The Nolah Original 10" mattress is not temperature sensitive, so it does not trap body heat as memory foam. Heat dissipates much faster resulting in a comfortable and cool sleep without feeling stuck "in the mattress".
No More Sore Hips and Shoulders
Pain-free sleep is all about removing pressure points, and no mattress does that better than Nolah! Compared to memory foam the Nolah mattresses offer 4x less peak pressure on hips, shoulders, and back.
The Nolah AirFoam™ high-resilience foam is proven to be much more durable than memory foam providing you with a long lasting mattress that is developed to eliminate sagging over time. In essence, keep your mattress longer than one with memory foam.
Customer Reviews
06/23/2021
Anna B.

United States
I recommend this product
Can't wait for bedtime!
Easy shopping experience. My first, not previously used bed! Very happy to have protective mattress cover as I have dusty pets. Basically thrilled about the whole thing. I use to have a lot of trouble with my neck and shoulders, sometimes leg joints as well. Though those things havent gone away my relief from these ailments and over all comfort has improved 85%, if not more. I no longer wake up with headaches and painful shoulder muscles.
06/22/2021
Eberhard T.

United States
I recommend this product
Great for side and back sleepers.
I have been having back pain for a number of years. I now wake up with no back pain after sleeping on the Nolah 10 for a few weeks.
06/18/2021
Theresa J.

United States
I recommend this product
You've gotta try this mattress!
I am really enjoying my new Nolah mattress! I am a side sleeper who sleeps very hot, and I was miserable on the memory foam mattress I tried at first....unbearably hot. When I switched to Nolah, I noticed an immediate improvement with overheating at night.....so great! The comfort of the mattress is very good, as well. Sleeping much better! Thanks Nolah!
06/17/2021
John F.

United States
I recommend this product
Huge Pop Pop
As a side sleeper with lower back and hip pain, I definitely recommend the Nolah mattress. My wife and I have been very happy with our Nolah mattress. I can't honestly say that our aches and pains have disappeared. However, I can say that it has definitely improved the overall quality of our sleep. I highly recommend the Nolah mattress for quality and price. We liked it so much that we purchased a second mattress for our spare bedroom. Our two granddaughters loved it. Thanks Nolah for providing a quality product for a fair price!
06/13/2021
Raquel L.

United States
I recommend this product
Thank you! You made it just right.
I purchased the Nolah original 10. The whole experience was great. Everyone is so helpful and courteous. The mattress was extremely comfortable and it has helped me with my back and neck pain. My husband likes a little bit of a softer mattress, so Nola sent us the topper. Thank you, Nolah. We're very happy with our purchase and the experience.
06/10/2021
Catherine D.

United States
I recommend this product
State of the Art Shopping
What a pleasant experience and what a great mattress. Totally impressed with Nolah Sleep, thank you very much!
06/04/2021
John C.

United States
I recommend this product
Very Comfortable
The Nolah mattress is super comfortable & love going to sleep at night. They have very attentive customer service & recommend this mattress. Only thought it would have a more cooling effect, but still feel refreshed in the morning.
06/03/2021
Dan B.

United States
I recommend this product
Good Mattress for Side Sleepers
I bought this mattress in July of 2020 because I had been having nagging shoulder pain. This mattress helped alleviate some of the pain for me, but my orthopedic doc said I should sleep exclusively on my back to alleviate the should pain, I eventually developed lower back pain because this bed is not firm enough. I'm of average weight and height and fairly fit, but if you are strictly a back sleeper, look for something firmer. If you are a lightweight sleeper, under 135 lbs, this bed should be comfy in almost any position. However, for an average size person, it is really only good for side sleeping. I just ordered a Winkbed Hybrid to replace it. My fingers are crossed.
06/03/2021
Lindsey N.

United States
I recommend this product
I didnt know my old mattress was a key reason for my shoulder and back pain
I'm so glad I bought this mattress! My partner and I sleep more soundly and, most importantly, some of the major aches and pains I was feeling in my upper body have subsided.
06/02/2021
Danielle H.

United States
I recommend this product
AMAZING
I found this mattress on one of the top 10 lists I was looking into and let me just say I'm beyond pleased with my experience. This mattress has made my sleep life soooo much better! It's like sleeping on clouds. My back doesn't bother me near as bad as it used to, and my body doesn't sink into the mattress!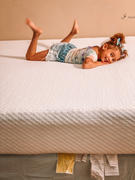 Don't Take Our Word for It.
Watch the mattress expert videos below.
Nolah 12" Signature Mattress
Our premium flippable firmness 12" mattress wrapped in a luxurious organic cotton cover.
Free Shipping and Return

120 Nights Trial Period

Lifetime Warranty

Made in the USA
More Ways To Improve Your Sleep