Mattress Material Guide
Which Mattress Type Is Right for Me?
Introduction to Mattress Types and Materials
When shopping for a new bed, choosing which type of mattress you want is a critical decision.
Every mattress brand has its own technology and manufacturing methods, and each model has unique features. However, mattresses of the same type share common qualities, regardless of their origin.
What does "type" mean in the mattress market? It generally refers to a combination of two factors: a mattress's construction and its primary material.
This guide will walk you through the most common mattress types: foam, latex, hybrid, innerspring, and the latest in mattress technology—adjustable airbeds. We'll go over how each mattress type is made, their advantages and advantages, and which sleeper profiles best fit each option. You can also check out this Wired guide to the Best Mattresses You Can Buy Online, featuring a wide variety of mattress types.
Mattress Terms All Shoppers Should Know
Before diving into the mattress shopping process, take a minute to review key mattress terminology. These terms and concepts will help you analyze each mattress type and find what works best for you.
Support: How well a mattress holds the body in place and keeps the spine aligned.

Pressure Relief: A mattress's ability to distribute a sleeper's weight evenly, reducing pressure at peak pressure points like the shoulders, back, and hips.

Firmness Level: How soft or firm a mattress feels. Firmness level is measured on a scale from 1 to 10, with 10 being the firmest. We explore this concept at length in our Mattress Firmness Guide.

Contouring: The way a mattress material molds to your body, hugging your curves.

Responsiveness: How quickly a mattress reacts to pressure and pressure removal.

Motion Isolation: A mattress's ability to contain the motion when you add or remove pressure.

Cooling: How quickly and effectively a mattress dissipates heat.

Breathability: How much ventilation or air circulation a mattress material allows.

Edge Support: How well the perimeter of a mattress resists sinking and supports your weight.

Durability: How well a mattress resists sagging and natural wear and tear.

Lifespan: How long a mattress lasts without sagging and losing structure or support.
Foam Mattresses
Introduced in the 1950s, foam mattresses now rival innerspring mattresses in popularity. Foam mattresses make up the fastest-growing sector of the mattress market, projected to value $42.77 billion by 2027.
What makes foam mattresses so sought-after? Unlike pre-dating mattress materials, foam hugs your body and responds to your movements. This flexibility gives mattress foam two key features: contouring and responsiveness.
However, shoppers should know that not all foam mattresses are made the same way or with the same ingredients. There's a lot of diversity within this mattress category, with foams ranging in density, chemical composition, construction, firmness, temperature-regulating capabilities, and more.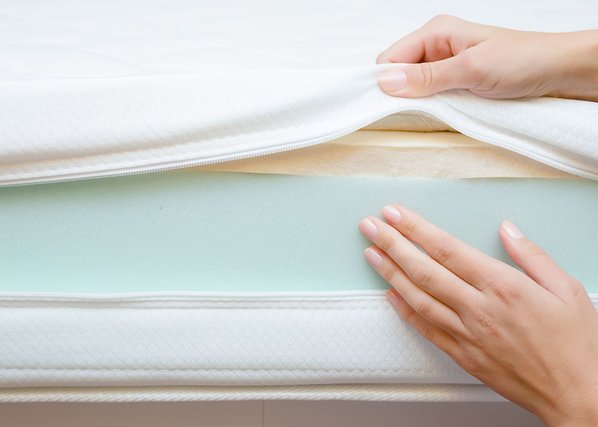 Traditional Memory Foam vs. Nolah AirFoam™
Today, most mattress foams fall into two subcategories: viscoelastic polyurethane foam (memory foam) and other polyurethane foam blends (polyfoam). It may not sound like a big deal, but the presence or absence of viscoelastic chemicals in a foam's formula significantly impacts its feel.
Nolah falls into the latter category. We developed Nolah AirFoam™ as a more advanced alternative to memory foam, free from viscoelastic chemicals. You can compare the qualities of AirFoam™ and memory foam below to see what makes our proprietary foam a healthier, more comfortable material than traditional memory foam.
Memory Foam Features and Qualities
Memory foam mattress brands use unique formulas, and their models vary in their construction and the number of layers they contain. As a result, they widely vary in terms of quality and support.
Because memory foam conforms and "sinks" further than other mattress materials, shoppers need to pay special attention to firmness level. A memory foam mattress that's too soft for your sleep position and weight can contour deep enough that it misaligns the spine.
Thanks to its moldability, memory foam offers decent pressure relief. Sleepers find comfort in its cushioning capabilities and how it redistributes their weight across the mattress surface. Memory foam beds don't reduce peak pressure as much as AirFoam™ but offer far better pressure relief than most innerspring mattresses.
With memory foam mattresses, firmness primarily depends on the density of the foam. Memory foam comes in a range of firmness levels but tends to lean toward the softer end of the scale.
Shoppers should know that memory foam can lose its firmness over time and fluctuates with temperature. Due to its heat-sensitive chemical composition, memory foam softens in hot weather and when body heat gets trapped in the foam.
If you're looking for a mattress that hugs your body tight, you'll find memory foam cozy and comfortable. Of all the mattress materials, memory foam contours the closest to your curves.
Keep in mind that memory foam reacts to both pressure and heat, meaning the heavier you are and the hotter you sleep, the more it softens and contours. For this reason, many sleepers find that memory foam is too soft and makes them feel trapped in their mattress.
Memory foam also behaves differently depending on its surrounding temperature. Due to its chemical composition, the foam is temperature-sensitive and softens with heat. You'll feel the difference as the seasons change—it will soften and contour deeper during warmer months.
This attribute is what gives memory foam its name. Once it contours, it maintains its shape for a few moments even after you remove your weight. According to Sleep Foundation, memory foam typically takes five to 10 seconds to return to its original shape.
While some sleepers like this feature, more restless sleepers usually prefer materials that reshape quickly, letting them shift positions freely.
As with firmness, memory foam's responsiveness also fluctuates with the temperature. Memory foam responds faster and requires less force to mold during warmer months.
Most memory foam mattresses excel in motion isolation. Even if your partner tosses and turns all night, you should sleep undisturbed.
Cooling and Breathability
Memory foam falls short in this area. Remember, all memory foam contains viscoelastic chemicals, trapping body heat and causing your mattress's firmness to fluctuate with the temperature of the air. Memory foam is also denser than most other polyfoams, making it less breathable and slower at dissipating heat.
Memory foam mattresses aren't generally known for their edge support, but some models feature reinforced edges with denser foam for more structure.
The viscoelastic chemicals in memory foam not only trap heat but also make the material degrade faster. Memory foam is known for softening and sagging with age, giving memory foam beds a shorter lifespan than other polyfoams, latex, and some innerspring mattresses.
Who Should Buy a Memory Foam Mattress?
Sleepers Who Like Close Contouring– Some people love the enveloping feel of mattresses that hugs their curves, contouring as closely as possible. If that sounds like your ideal sleep setup, you'll likely prefer memory foam to other polyfoams or latex.

Lightweight Individuals– Many issues associated with memory foam don't affect lightweight individuals who don't need as much support from their mattress as other sleepers. Adults weighing under 130 pounds—particularly back sleepers who like the feel of a softer bed—may find comfort in a memory foam model.
Nolah AirFoam™ Features and Qualities
Our patented mattress foam excels in stabilizing the spine and keeping it aligned as you rest. High-resilience AirFoam™ provides full-body support, balancing cushioning and contouring with the structure and resistance needed to hold you in place and maintain the natural curvature of your spine. This long-lasting mattress foam doesn't sag over time, remaining as firm as the day you bought it.
Nolah AirFoam™ offers best-in-class pressure relief and four times less peak pressure than traditional memory foam. It contains billions of microscopic air pockets that redistribute your body weight, spreading it across the mattress surface. This decreases the pressure you feel around the heavier parts of your body, including your shoulders, back, and hips.
Across our line of all-foam AirFoam™ mattresses (the Original and Signature) and our AirFoam™ hybrid mattress (the Evolution), we offer five firmness levels: 4-5 (Signature All-Foam Hybrid and Evolution Plush), 5 (Original All-Foam Hybrid and Signature), 5-6 (Original), 6-7 (Evolution Luxury Firm), and 7-8 (Evolution Firm).
Mattress Firmness and Multi-Layer Construction
Today, most high-quality foam, latex, and hybrid mattresses consist of multiple layers. If you cut open your mattress and looked at its profile, you'd see stratified sheets of foam, latex, or coils.
Each layer may use a unique formula or construction depending on its primary purpose—comfort or support. For example, the lower layers of foam mattresses tend to have higher density and resiliency for stability and support. Meanwhile, the upper layers tend to have better contouring and pressure relief. The coil type, the number of coils used, and the coil gauge contribute to the mattress's support level and feel for hybrid and innerspring models.
Mattress brands and reviewers look at the mattress holistically when giving it a rating along the mattress firmness scale. So as a shopper, you only need to look at the mattress's overall firmness rating to find your fit.

Contouring and Responsiveness
AirFoam™ gently contours to your curves, cradling your bones and joints. It reacts to your body weight and movements but doesn't dip so far that it misaligns your spine.
In terms of responsiveness, AirFoam™ is a happy medium between memory foam and latex. It reacts quickly when you add or remove pressure, but it doesn't have the instantaneous bounce associated with latex mattresses.
Thanks to the compressed air pockets that give the material its pressure-relieving capabilities, Nolah AirFoam™ also offers excellent motion isolation. If you toss and turn in your sleep, your partner won't feel the disturbance from the other side of the bed.
While many mattress foams contain heat-trapping chemicals, AirFoam™ is 100 percent temperature neutral. Free from the viscoelastic chemicals used in memory foam, AirFoam™ stays cool all night. It dissipates heat 20 percent faster than high-end memory foam, making it an excellent fit for hot sleepers.
Part of AirFoam's™ cooling qualities come from its breathable, open-cell construction. The body heat you release as you sleep travels through the mattress, dispersing into the air instead of remaining trapped in your bed. Plus, all Nolah mattresses come wrapped in lightweight, breathable, and moisture-wicking covers that help protect the mattress while keeping it cool and dry.
By nature, all-foam mattresses tend to have less edge support than other models. That said, AirFoam™ is a high-resilience foam, offering better support around the perimeter than many other polyfoam and memory foam beds.
For sleepers who use every inch of their mattress, we recommend the Nolah Evolution. The Nolah Evolution features our proprietary AirFoam™ as well as HDMax™ support coils, with lower gauge (thicker) coils around the perimeter for enhanced edge support.
Made with high-resilience foam and wrapped in protective covers, our AirFoam™ mattresses are built to last. Testing shows that Nolah AirFoam™ is up to 300 percent more durable than high-end memory foam. With proper care, your Nolah mattress is made to last and is backed by our industry-leading lifetime warranty. Plus, all Nolah mattress purchases include our lifetime warranty.
Who Should Buy an AirFoam™ Mattress?
Side and Back Sleepers– AirFoam's™ gentle contouring and best-in-class pressure relief make it a great fit for most side and back sleepers. If you sleep in either position and tend to wake up with soreness or pain around your shoulders, back, hip, or knees, an AirFoam™ mattress can soothe these pressure points and cushion your joints.

Hot Sleepers– If you tend to sleep hot or sweat at night, you'll find relief in an AirFoam™ bed. Nolah's viscoelastic chemical-free foam dissipates body heat and keeps you cool and dry.
SHOP AIRFOAM™ MATTRESSES
Latex Mattresses
Latex mattresses have been around since the 1930s but have recently surged in popularity as more and more consumers and brands commit to eco-conscious products. You may come across synthetic latex mattresses, but this guide focuses on all-natural latex foam made with latex sustainably tapped from rubber trees.
Shoppers will also see different forms of latex foam, typically Talalay and Dunlop. Both materials use the same essential ingredient, natural latex, but manufacturers process them differently. You can learn about the differences here, though we'll focus on Talalay latex, which we believe makes the better mattress material. Nolah's latex model, the Nolah Natural, uses Talalay.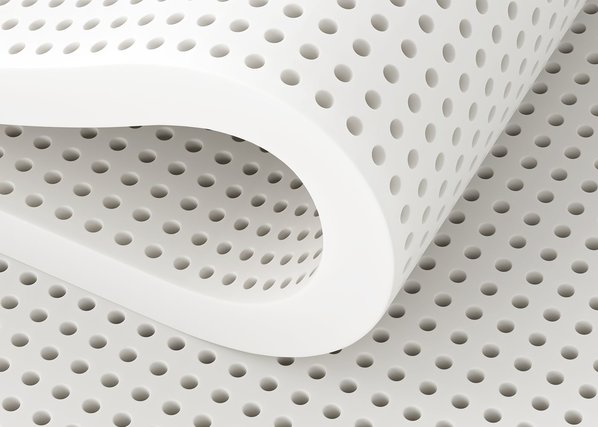 Features and Qualities
Stronger than memory foam and most polyfoam, latex foam offers superior support and spinal alignment. This high-resilience material cushions your curves and joints but doesn't sink too far, even for stomach sleepers and heavier individuals.
Latex foam, specifically Talalay latex, provides exceptional pressure relief. Thanks to its responsive nature and open-cell structure, latex redistributes your weight and reduces peak pressure. Sleepers often report that joint pain, body aches, and stiffness disappear after a few nights on a latex bed.
People often associate latex with firmer beds, but latex comes in a range of firmness levels like other mattress foams. Instead of density, manufacturers use impression load deflection (ILD) to represent latex firmness. Shoppers can use the chart below as an approximate guide to latex ILD and mattress feel.
Contouring and Responsiveness
Like Nolah AirFoam™, Talalay latex offers gentle contouring rather than deep conforming. It responds to your movements and contours to your curves but won't sink or make you feel stuck in the foam.
Latex's responsiveness sets it apart from all other mattress foams. It instantaneously reacts to pressure and pressure removal, giving it its bouncy quality. This attribute makes latex a perfect fit for combination sleepers and people who tend to toss and turn in their sleep. When you shift positions or readjust your body, the mattress immediately responds and contours to your new positioning.
Due to latex's natural bounce, it doesn't contain motion quite as well as AirFoam™, memory foam, and other polyfoams. However, its motion isolation is still far superior to traditional innerspring mattresses, and the average sleeper won't have any issues.
Cooling and Breathability
Hot sleepers will appreciate the breathability and temperature-neutral composition of latex mattresses. Natural latex foam contains zero harsh, heat-trapping chemicals, and its porous structure lets air flow in and out, keeping the material cool all night. Many latex models also feature natural cotton covers and wool components, which increase cooling.
Thanks to its natural strength and resilience, latex provides better edge support than most other mattress foams. As with other foam materials, sleepers who want extra edge support should look for models with a reinforced perimeter or may prefer a latex hybrid option.
In addition to its sustainable sourcing, natural latex's longevity makes it a highly sustainable material. A latex bed can last more than 20 years if taken care of properly. That said, you should replace your mattress sooner than that for sanitary reasons. Even if you use a mattress protector, you shouldn't use the mattress for more than 15 years, give or take.
When it comes to latex mattresses, your bed will maintain its firmness and support throughout its lifespan.
As an all-natural material, latex has a few other notable qualities that prospective shoppers should know about. If you're looking to lower your carbon footprint, you'll be happy to hear that latex foam is biodegradable and many latex mattresses are organic or chemical-free. Latex also has natural antimicrobial properties, making it a hypoallergenic material ideal for sleepers with allergies or asthma.
Who Should Buy a Latex Mattress?
Side, Back, Stomach, and Combo Sleepers– Natural latex is a highly versatile material, making it a great fit for many sleeper profiles. A person's ideal mattress also depends on their weight, but there are latex models suitable for all sleep positions.

Eco-Conscious Shoppers– Sustainably sourced, durable, and biodegradable, latex is an eco-friendly material perfect for mattress shoppers who want to reduce their carbon footprint or maintain a clean, eco-conscious home.

Parents with Growing Kids– Latex mattresses are highly versatile, resist wear and tear, and are naturally hypoallergenic, making them perfect for growing children and teens.
SHOP LATEX MATTRESSES
Hybrid Mattresses
Hybrid mattresses combine a coil support layer with numerous comfort layers on top. The hybrid design gives these premium mattresses the heavy-duty support and stability of an innerspring mattress and the contouring, pressure-relieving qualities of a foam or latex bed. Thicker and a bit pricier than other mattress models, hybrid mattresses typically pack in the latest mattress technology and luxury features.
Most hybrids use individually-wrapped coils, the latest iteration of spring support systems. The top comfort layers usually consist of memory foam, polyfoam, or latex foam. In this guide, we'll focus on the benefits of Talalay latex hybrids (like the Nolah Natural) and our AirFoam™ hybrid, the Nolah Evolution.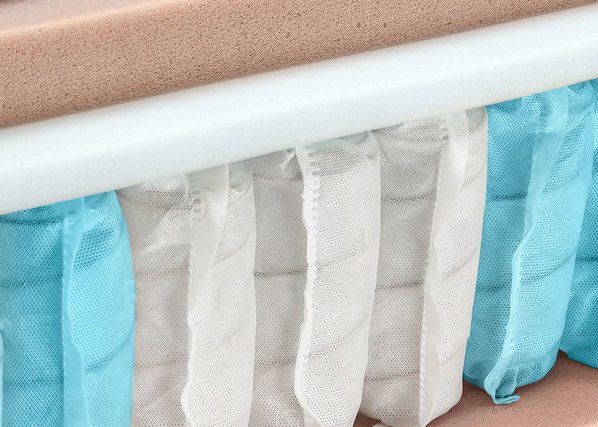 Features and Qualities
The strongest, most supportive mattresses are typically hybrid models, which benefit from multiple layers of supportive foam and a system of tensioned springs. Many hybrid mattresses, like Nolah's, feature zoned coils for targeted support in high-pressure areas.
Pressure Relief, Firmness Level, and Contouring
For hybrid mattresses, these qualities primarily derive from the comfort layers. They take on both the advantages and disadvantages of the material used for the uppermost layers, typically memory foam, another polyfoam, or latex foam.
For adult sleepers, Nolah offers two hybrid mattress models: the AirFoam™ hybrid Nolah Evolution and Talalay latex hybrid Nolah Natural. The Evolution comes in three firmness levels, ranging from a 4-5 to a 7-8. The versatile Nolah Natural is a 6-7 on the mattress firmness scale.
Responsiveness and Motion Isolation
As previously mentioned, most hybrids use individually-wrapped coils, meaning they stand independently of one another and come wrapped in their own fabric sleeves. When paired with a responsive comfort layer material, like AirFoam™ or latex, individually-wrapped coil systems move with your body and readjust when you switch positions. Individually-wrapped coils also give hybrid mattresses increased motion isolation.
Cooling and Breathability
Once again, a hybrid mattress's cooling properties largely depend on the material used for the comfort layers. While memory foam traps heat, temperature-neutral polyfoam and natural latex foam dissipate body heat and allow air circulation.
Hybrid beds also benefit from the open structure of their coil support layers. Plus, many individually-wrapped coil hybrids use cotton or other breathable materials for the coil sleeves.
Compared to all-foam and all-latex models, hybrid mattresses tend to have superior edge support. Many hybrids, like the Nolah Evolution, feature reinforced edges using stronger coils around the bed's perimeter.
Thanks to their robust design, hybrid mattresses have high durability and a long lifespan. With proper care, a hybrid mattress can last up to 20 years, depending on the comfort layers' material. (Again, we recommend replacing your mattress sooner for sanitary reasons.)
Hybrids with reinforced edge support and stability base layers tend to last the longest. For example, the coils in all Nolah hybrids are individually wrapped and rest on a foundation layer for maximum stability and strength.
Who Should Buy a Hybrid Mattress?
Side, Back, Stomach, and Combo Sleepers– Hybrid mattresses come in a range of firmness levels, but all offer heavy-duty core support. Regardless of your preferred sleep position, you can find a hybrid model that suits your comfort and support needs.

Sleepers with Back Pain– Hybrid models combine contouring, pressure-relieving foam with hefty, tensioned coils. They offer both cushioning and stability, relieving pain around high-stress areas. Many modern hybrids also feature zoned coils, providing targeted support in the lumbar area.

Heavier Sleepers– The thick, multi-layer design of hybrid mattresses make them sturdy and supportive, providing the stability and firmness that heavier sleepers need for proper spinal alignment.
SHOP HYBRID MATTRESSES
Innerspring (Coil) Mattresses
Innerspring mattresses, also known as coil mattresses, date all the way back to the 1870s and remain the most common type of mattress. Coil mattresses widely range in quality, with many budget models available. However, since the advent of hybrid mattresses, few mattress brands make high-end innerspring beds, focusing instead on their newer, more advanced counterparts.
What's the difference between a hybrid and a traditional spring mattress? While hybrids feature numerous comfort layers, innerspring mattresses typically only have a single, thinner layer. This layer typically consists of memory foam or a pillow top filled with cotton, polyester, or a blend of the two.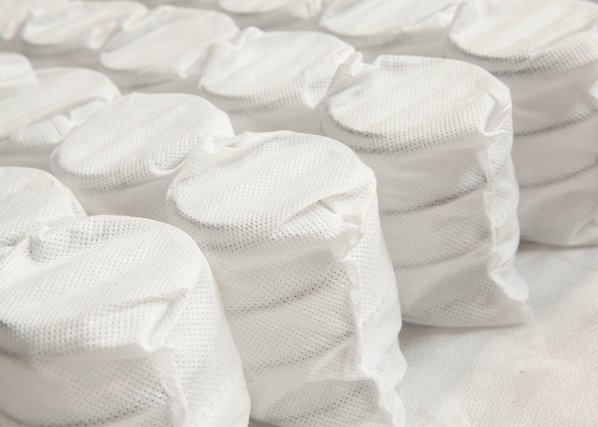 Features and Qualities
Support and Firmness Level
In general, coil mattresses provide ample resistance and stability, keeping your spine stabilized and aligned. The type of coils, coil count, gauge (thickness), and tension all contribute to an innerspring mattress's supportiveness and firmness level. In general, spring mattresses with individually-wrapped coils, a higher coil count, a lower gauge, and tighter tensioning offer more resistance. But shoppers must look at all of these factors collectively to assess a spring mattress's feel, support level, and durability.
Pressure Relief and Contouring
Because innerspring mattresses have only one comfort layer, they offer limited pressure relief and contouring compared to all-foam, all-latex, and hybrid models. If you want the support of a spring mattress but struggle with pain around pressure points and joints, you'll likely prefer a hybrid option.
Responsiveness and Motion Isolation
Higher-end innerspring mattresses use the same individually-wrapped coil design as hybrids, but most models still use the traditional continuous coil construction.
On a mattress with interconnected springs, movement transfers across the bed, meaning your partner may feel a disturbance when you shift positions. This design also limits responsiveness, as the entire spring system moves together when you adjust your body.
Cooling and Breathability
By nature, innerspring beds have an open structure, allowing air to flow freely through the coil support layer. However, many coil mattresses use heat-trapping memory foam or polyester in the comfort layer.
As with hybrid mattresses, some innerspring models have reinforced edges with stronger, thicker coils. Be sure to look for this feature if you have trouble getting in and out of bed and sit on the mattress edge to make this transition easier.
As previously mentioned, an innerspring mattress's durability depends on the quality of the coils, including their type, count, gauge, and tension. They typically last from seven to 10 years, though newer models with individually-wrapped coils may last longer.
Who Should Buy an Innerspring Mattress?
Stomach Sleepers– While innerspring mattresses don't offer the cushioning and contouring that side and back sleepers need, some stomach sleepers prefer their firm feel. If you're a stomach sleeper who doesn't have the budget for a latex or hybrid model, an innerspring mattress is your next best option.

Heavier Sleepers– As with stomach sleepers, heavier individuals typically prioritize support over contouring and cushioning. Again, innerspring mattresses make a good fit for those who like a firm bed but want to keep costs low.
Adjustable Airbeds
When you hear the word "airbed," you may think of the inexpensive, inflatable mattresses you keep in the back of the closet for the occasional guest or camping trip. However, the term has taken on a whole new meaning in the mattress industry since the release of luxury mattresses with adjustable air chambers.
Like hybrid mattresses, airbeds combine a support core with upper comfort layers made from memory foam, polyfoam, latex, or other various mattress materials.
But instead of using coils for their primary support layer, airbeds use a series of air chambers, most commonly made with vulcanized rubber. The number of air chambers packed within the mattress varies between models and makers, but currently, most have two to eight independently-adjustable sections.
Features and Qualities
Support and Firmness Level
What makes airbeds so luxurious? Their adjustability.
Sleepers can control the inflation of each individual air chamber, letting you customize the firmness and support level of each region of the bed. You can independently adjust the section of the mattress that sits beneath specific pressure points and joints, depending on how many air chambers the mattress contains and where they're placed.
The adjustable air chambers also let you and your partner find the settings that work best for you, keeping your spine perfectly aligned. An airbed's adjustable design also makes it suitable for sleepers of all body types and sleep positions.
Pressure Relief and Contouring
As with hybrid beds, the level of countering and pressure relief an airbed provides depends on the material used for the top comfort layers. Before deciding on a specific airbed model, shoppers should compare the advantages and disadvantages of memory foam, polyfoam, and latex foam and identify which works best for their needs.
Responsiveness and Motion Isolation
Thanks to their independent air chambers, airbeds offer excellent responsiveness and motion isolation. They work great for couples, letting each partner move around freely and adjust their side of the bed without disturbing the other sleeper.
Cooling and Breathability
How hot or cool an airbed feels primarily depends on the comfort layers. Hot sleepers should look for an option with a temperature-neutral material, such as natural latex.
Most airbeds do not have additional reinforcement around the edges. The adjustable air chamber is run from head to foot, not from side to side, so you can't independently control the firmness of the side edges.
These premium mattresses feature many high-tech components, making them susceptible to malfunction and damage. However, most airbeds have a modular design, meaning you can replace a faulty part without affecting the rest of the mattress. For example, most airbeds feature removable air pumps.
Many airbeds also include state-of-the-art smart bed features, like automatic adjustments and sleep tracking through motion and weight distribution sensors. Otherwise, you can adjust the mattress using a smartphone app.
Who Should Buy an Adjustable Airbed?
Couples with Different Sleep Positions and Body Types– Adjustable airbeds allow complete customization on both sides of the mattress, meaning you and your partner can choose unique settings. You can also adjust your side of the bed throughout the night without disturbing the other sleeper.

Shoppers with a Flexible Budget– Airbeds typically use state-of-the-art smart technology and the highest quality materials possible, making them significantly more expensive than other beds. But if you have the means for a deluxe mattress, buying an airbed—and an adjustable base—is the best way to customize your sleep setup.
What's Next?
By this point, you're a mattress material expert! You're likely ready to select the mattress type that fits you best. But if not, don't worry—you can always chat with one of our knowledgeable customer support team members for more information or advice.
Once you've decided on a mattress type, you're one step closer to finding your perfect mattress. You can now continue onto the next step of our Mattress Buying Guide: identifying your ideal mattress firmness level. You can learn all about mattress firmness and how to find your fit here.
Frequently Asked Questions
Need help from a Nolah expert? Start a Live Chat below.
Disclaimer: Nolah does not provide medical advice. All resources on the Nolah blog, including this article, are informational only and do not replace professional medical counsel. Talk to your doctor about any health, mental health, or sleep-related issues.