The Perfect Pillow: How To Choose Between Down, Feather, Foam, and More
What Materials Make the Most Comfortable Pillows?
Even if you own the highest-quality mattress on the market, you won't get relaxing, restorative sleep without the right pillow. At best, an uncomfortable or unsupportive pillow can make it difficult to fall asleep; at worst, it can aggravate or cause severe neck pain. Choosing new pillows may seem like a trivial decision, but any choice that affects sleep quality impacts the rest of your life.
You can find many different pillow shapes and types online and in stores, such as wedge pillows, orthopedic pillows, and lumbar support pillows. We'll discuss these designs in a later article, but for now, we want to focus on the core factor that makes or breaks pillow quality: the materials used, inside and out.
While not comprehensive—there are a lot of options out there—this guide covers the most common pillow filling and cover materials and their characteristics, both positive and negative.
Looking for more guidance on how to build the perfect bed? Check out our Types of Bed Sheets and Best Winter Bedding guides.
Pillow Filling
The filling, also known as infill or stuffing, gives a pillow its softness and loft. But pillows aren't all about size and fluff; they also need to support your head and neck so your body can rest in a pain-free, neutral position.
Once you know what you're looking for, you can dive into the pillow filling types below and determine which materials best fits your preferences and needs.
1. Buckwheat Hull Pillows
Buckwheat seeds grow within a hard, protective shell, also known as a buckwheat hull. While the seeds themselves make a grain-like superfood, the hulls can be used to stuff fabrics for pillows, mattresses, and other upholstered products.
Pillows with buckwheat hull filling sleep cool and have a pleasant, natural aroma. Due to the hardness of the shells, buckwheat hull pillows generally feel firmer than foam, feathers, and other common fillings. The hardness of the filling also lends itself to superior support compared to softer stuffing like cotton and feathers.
On the negative side, buckwheat pillows can make noise as you shift positions, and they don't contour closely like foam alternatives. They also weigh a lot more than most other pillow types, and while some people love buckwheat's natural smell, others find it too strong for the first few nights.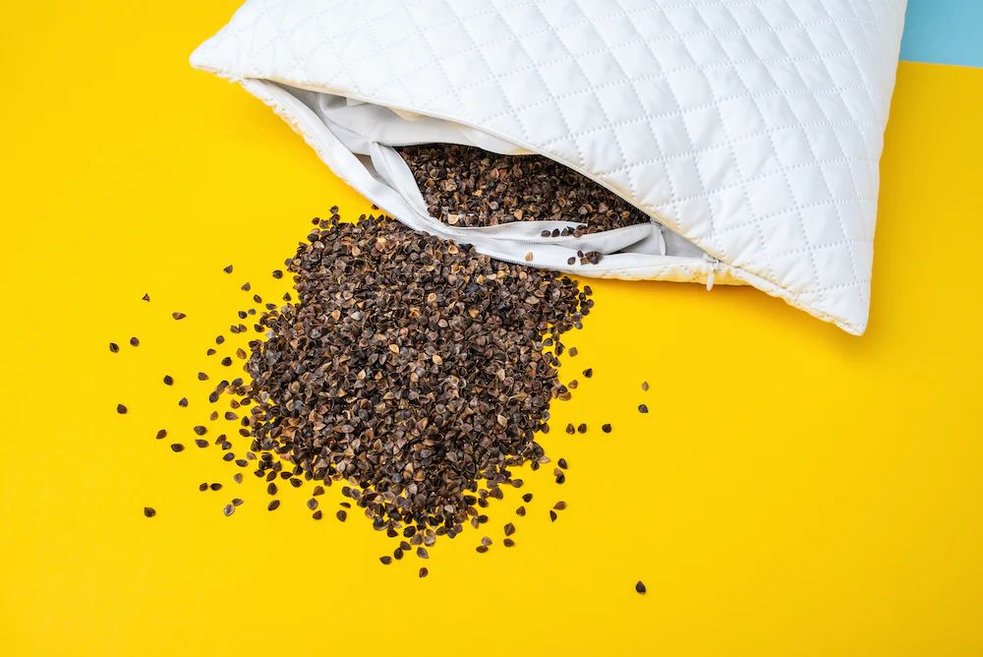 2. Contouring Foam Pillows
Because the material used to construct contouring foam pillows is synthetically made, their quality widely varies across brands. While one company's foam formula may be supple and supportive, another's may be stiff or flimsy.
Not all foam infill is created equally, so we recommend you read the full product descriptions and reviews to find out how customers rate the pillow in terms of density, flexibility, and durability. You can also look for Oeko-Tex® Standard 100 certification or similar qualifications to ensure the pillow you choose is safe and toxin-free.
That said, contouring foam generally makes for an ideal pillow. The foam's malleability provides cushioning and pressure relief, and high-density foams are firm enough to keep your neck in line with your spine.
However, some foam pillows require heat to contour and contain harsh chemicals that trap heat. For cooling relief, look for a pillow with a temperature-neutral foam formula, like the Nolah Cooling Foam Pillow made with our proprietary AirFoam™. You can also opt for foams infused with natural coolants such as graphite.
Sheet vs. Shredded Foam Pillows
Contouring foam pillow shoppers also have the choice between standard sheet foam and shredded foam. Many shredded foam pillows like the Nolah Squishy Pillow have the added benefit of customization; these adjustable pillows have a two-chamber design that allows you to add or remove filling to achieve your ideal firmness and loft. Shredded foam pillows are also more breathable than solid foam pillows, meaning they sleep cooler.
3. Cotton Pillows
While many pillows have cotton covers, 100 percent cotton filling is no longer a popular option. Most shoppers now choose newer technology like contouring foams, but cotton infill does have its benefits. Cotton is natural, hypoallergenic, and breathable, making cotton-stuffed pillows a good option for sensitive sleepers.
However, cotton pillows don't contour to your body. And while cotton pillows have a soft and fluffy feel, the filling tends to clump together and flatten with use.
4. Down Pillows
Ducks and geese have a soft and quill-less coating on their underbelly that sits beneath their outer feathers and keeps them warm. These fluffy clusters known as down are a common stand-alone pillow filling, though many pillows come stuffed with both down and feathers.
While feathers lay flat, down clusters together in a spherical shape, giving pillows made with 100 percent down their loft. Down pillows are also malleable, meaning they reshape around your head and neck for cushioning comfort.
Keep in mind that if you sleep on your side or back, you'll need a higher-density down pillow for the support. Or, you may prefer a firmer material altogether.
You should also know that some down pillows trap body heat. If you opt for a down pillow, make sure it has a breathable cover that allows air circulation to offset down's insulating properties.
Lastly, down pillows typically cost more than any other type of pillow. However, they also last much longer.
5. Down Alternative Pillows
Down alternative is a polyester-based material that mimics the soft, fluffy feel of natural down. This synthetic filling costs less than natural down and has a silkier feel. Down alternative pillows also don't contain any animal-derived materials, making them suitable for vegans and those with allergies.
Like down pillows and other pillows with loose filling, down alternative pillows are moldable and come in varying firmness options. They can range from soft to firm, depending on how tight the filling is packed. However, if you want an extra-firm pillow, you'll may want to choose a different infill.
6. Feather Pillows
Feather pillows use full-length feathers—quills included—from the wings and backs of geese and ducks. Thanks to these structured quills, feather pillows provide more support than down pillows but don't have as plush a feel. Many pillow makers add down to feather pillows to achieve a happy medium between softness and support and add loft.
Pillows filled with 100 percent feathers feel fluffy but maintain their shape better than down, again due to the structured quills. While feathers don't contour closely like foam, they do cushion your head and neck and respond to your weight and movement.
Although less expensive than down and other luxury options, feather pillows do have notable disadvantages. When the quills line up, feather pillows fall flat and require manual fluffing to mix up the filling and restore the pillow to its maximum loft. Feather pillows also trap heat, and quills poking out through a worn-out pillow cover can pose a hazard.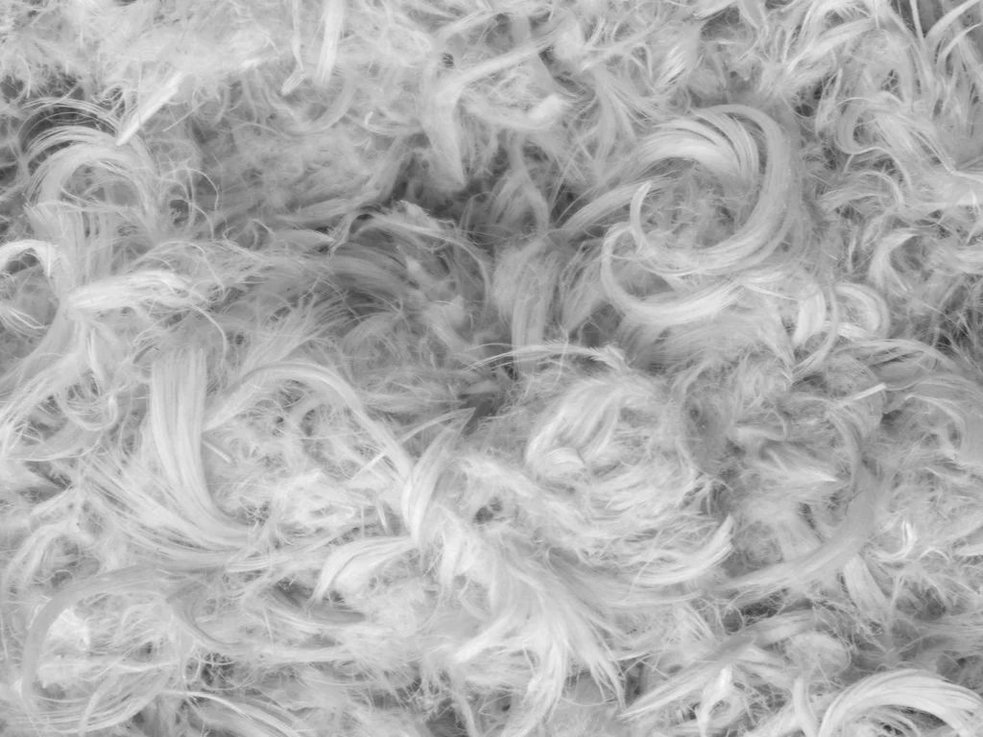 7. Kapok Pillows
Looking for a fluffy, plant-based alternative to down pillows? Kapok pillows are just that.
The kapok fibers used for pillow filling come from the seed pods of gigantic tropical trees known as kapok or ceiba trees. The fiber looks a lot like cotton—but less clumpy and with a yellow hue—and it feels just as soft and airy as down. Kapok filling is also highly durable and sustainable, making kapok pillows great for eco-conscious shoppers.
While kapok pillows don't contour as close as other materials, they are naturally bouncy and malleable enough to provide that "hugging" sensation and ample support. Many kapok pillows are also adjustable, meaning you can add or remove filling to modify the pillow's firmness and loft.
In terms of temperature regulation, kapok filling ticks all the right boxes. The material is light, breathable, and moisture-wicking, so it doesn't trap heat or soak up sweat. It's also naturally hypoallergenic and great for sensitive sleepers.
While kapok has many comfort and environmental advantages, it does have a significant drawback. Shoppers considering a kapok pillow should know that the material is highly flammable. If you choose a pillow with kapok infill, make sure it has a flame-resistant cover.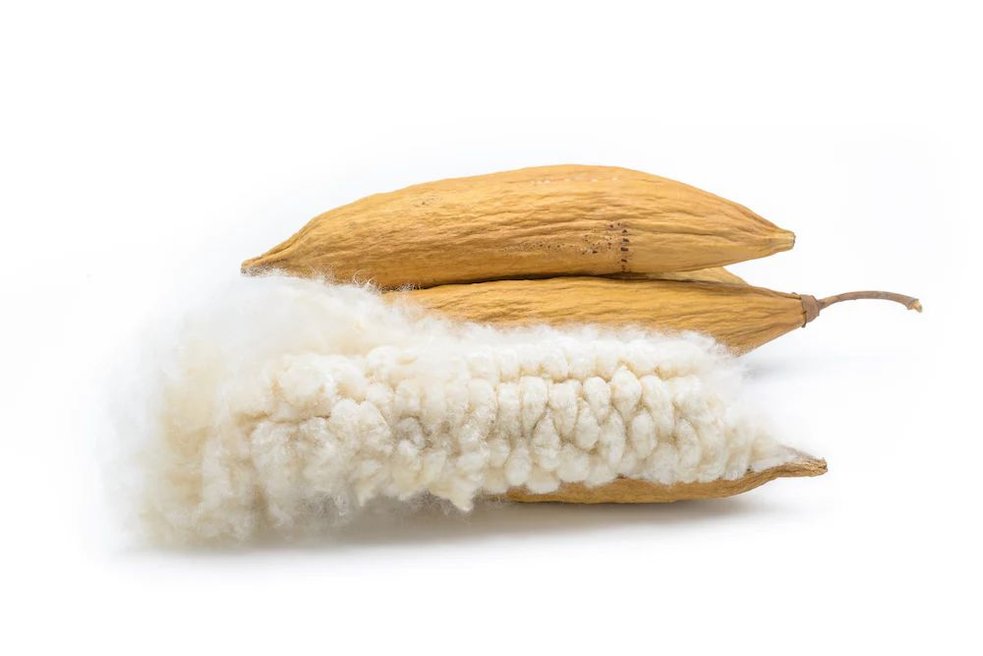 8. Latex Pillows
Latex foam pillows enjoy all the same benefits as latex mattresses. They're durable, supportive, bouncy, contouring, temperature neutral, hypoallergenic, and eco-friendly.
If you choose latex for your next pillow, be sure to read the label or product description to find out if it uses natural or synthetic latex. The best latex pillows use 100 percent natural latex, preferably Talalay latex, for superior responsiveness and pressure relief.
9. Polyester Fiberfill Pillows
Polyester fiberfill pillows take the title as the most affordable option on this list. However, the lower price reflects the quality of this less-than-ideal pillow infill material.
Also known as polyfill or poly fiber, polyester fiberfill is a synthetic material designed to imitate cotton. Polyfill pillows are soft, lightweight, and airy, making them feel deceptively comfortable when you pull them off the shelf.
However, polyfill pillows lack structure and firmness and don't offer the crucial support your head and neck need as you sleep. Moreover, poly fiber tends to clump, so you'll need to fluff your pillow frequently to redistribute the filling.
Unlike many options on this list, polyfill isn't hypoallergenic. However, you can machine wash and dry most polyester fiberfill pillows. Typically, poly fiber pillows last one to two years.
Pillow Filling Comparison Chart
Fill
Type
Contouring
Cooling
Durability
Moldable, but not close contouring
Moldable, but not close contouring
Moldable, but not close contouring
Moldable, but not close contouring
Filler Combinations
Many modern pillows blend two or more of the infill types listed above, mixing and matching materials to maximize performance while reducing costs. For example, some pillows supplement down with feathers, creating a pillow that's more affordable than 100 percent down models.
Aside from cutting costs, combining fillers can complement or help make up for the disadvantages of a given material. For example, you may see polyfill mixed with shredded foam because pillows stuffed with polyfill alone lack contouring and support. You may also see latex, a relatively firm material, paired with down or kapok for added comfort and loft.
When shopping for a new pillow, be sure to check the label or product description to see the complete breakdown of materials and read up on the benefits and drawbacks of each component.
Pillow Covers and Exteriors
When it comes to pillows, it's not just the inside that matters. After all, what good is a breathable, perforated latex pillow if the cover traps heat? Why choose high-end, luxurious down filling if the pillow's exterior doesn't protect it? The same goes for pillowcase materials.
As you compare pillow options, you'll want to consider a few key characteristics of the cover or outer-most layer:
Covers and Care Requirements– For convenient care, many pillows have removable covers you can machine wash. If you opt for a pillow that doesn't have a detachable cover, check to see if the entire pillow is machine washable or if the pillow requires dry cleaning.

Cooling– The best temperature-regulating materials for pillow covers and exteriors are lightweight, breathable, and moisture-wicking.

Antimicrobial– If you don't want mold, mites, or other allergens creeping into your pillow, look for a material that resists both bacteria and fungus. Keep in mind that some materials are naturally antimicrobial, while others are chemical treated to obtain this property.

Durability– The outside of your pillow experiences the most wear and tear, so you'll want an exterior material that's tough but still soft to the touch.
There are other options, but the vast majority of pillow exteriors and covers use one or more of the following materials. Covers may also have infill or coolants sewn in or infused for extra comfort, loft, or cooling.
Bamboo– Bamboo fabric is soft, durable, antibacterial, breathable, and moisture-wicking, making it perfect for pillow covers. Love resting your head on cooling bamboo? Our Bamboo Sheet Set includes silky-smooth bamboo pillowcases.

Cotton– Cotton is soft, durable, and breathable, though not naturally antibacterial.

Polyester– As with poly fiber infill, 100 percent polyester isn't ideal for pillow covers. The synthetic material is soft and breathable but lacks durability.
Research Now, Thank Yourself Later
Having all of these material options may sound overwhelming, but given you spend about eight hours a day in bed, it's well worth it to research your choices before buying a new pillow.
Remember, you can't judge a pillow solely based on how soft or fluffy it feels. For maximum sleep comfort, you'll want to consider the finer details, like temperature regulation, moldability, neck support, and care requirements. It may seem like a lot to factor in, but you'll thank yourself later when you drift off to sleep with ease.
Disclaimer: Nolah does not provide medical advice. All resources on the Nolah blog, including this article, are informational only and do not replace professional medical counsel. Talk to your doctor about any health, mental health, or sleep-related issues.
You May Also Like These Articles
Don't Sleep on Exclusive Offers
Sign up for our newsletter, and you'll be the first to know about discounts, deals, and what's new at Nolah.