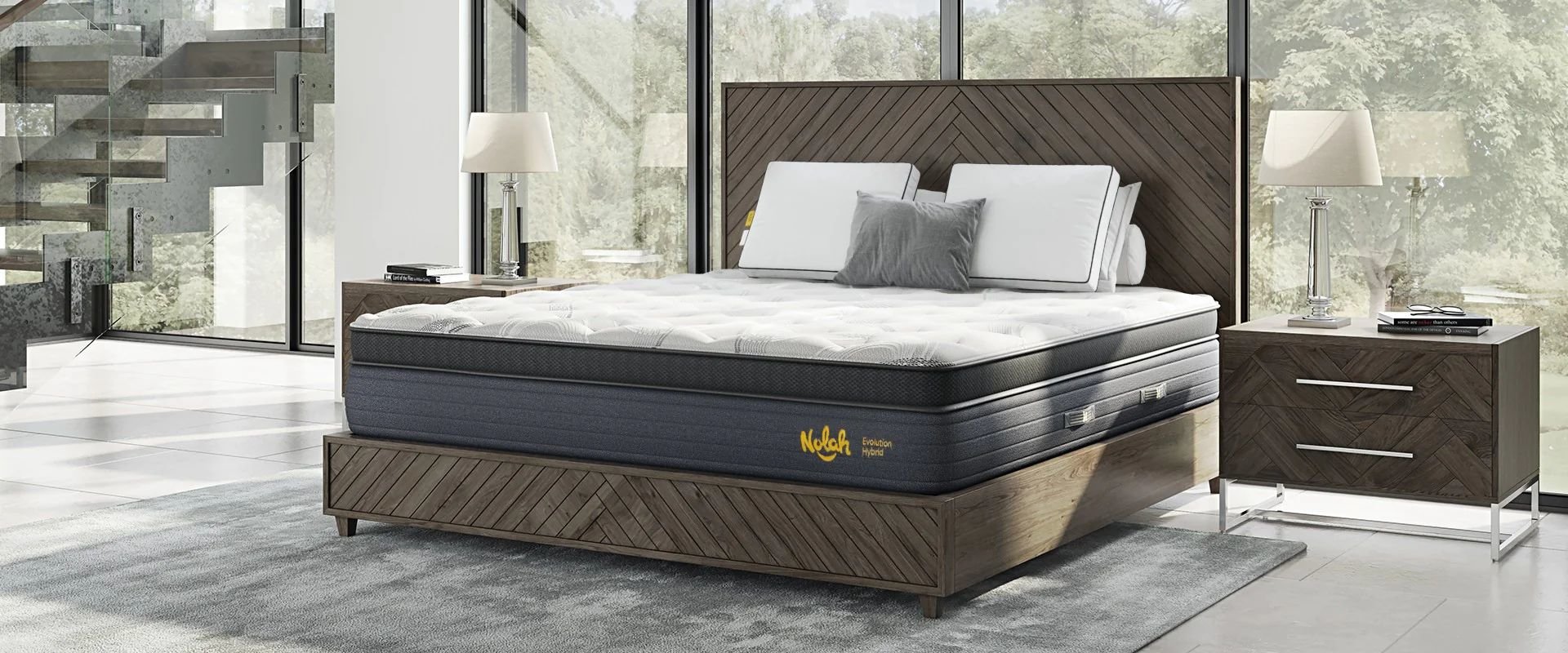 Mattress Firmness Guide
How to Find the Right Mattress Firmness for Your Sleep Needs
The story of Goldilocks and the Three Bears teaches kids about privacy and property, but if you look closer, there's also a lesson for prudent mattress shoppers.
When Goldilocks climbs into Papa Bear's bed, she can't relax—the bed is too hard. She tries Mama Bear's bed, and it's softer but still not comfortable. It's not until she tries Baby Bear's bed, the softest of them all, that she can drift off to sleep.
Like Goldilocks, we all have an ideal firmness level, and we'll struggle to get comfortable and fall asleep on a bed that doesn't fit our needs. But unlike Goldilocks, you can't walk into someone else's house and try out beds until you find one that feels right. If you plan to buy your mattress online, you'll have to do some research to settle on a firmness level.
Your ideal firmness level depends on tactile comfort preferences, your body composition, and your sleep position. You'll need to consider all of these factors to find a mattress that soothes you to sleep while keeping your spine properly aligned.
This may sound complicated, but if you understand each element that affects how you experience a bed, you'll have no trouble finding the firmness level that fits. You don't need to try mattresses at a brick-and-mortar store, and you certainly don't have to break into a bear's den.
What Is Mattress Firmness?
A mattress's firmness level refers to how hard or soft the surface feels. Plusher mattresses flex and give in slightly when you apply pressure, while firmer mattresses resist more and maintain their form. The softer the mattress, the more it cushions and contours to your curves.
When comparing mattresses from different makers, we recommend reading or watching product reviews to hear how other shoppers rate each mattress's firmness level. Mattress reviews often include the reviewer's weight and sleep position; for the closest idea of how firm a bed will feel to you, look for comments from reviewers with a sleeper profile similar to your own.
The Mattress Firmness Scale
Mattress brands and online reviewers use the mattress firmness scale to compare the relative firmness of mattress models. The scale ranges from 1 to 10, 10 being the firmest. Along with the numerical ratings, mattress companies also use terms like "soft," "medium-soft," "medium-firm," and "firm" to differentiate between models.
Remember: The mattress firmness scale is a good tool for categorizing mattresses, but it isn't perfect. There are no industry-wide standards or metrics used to measure mattress firmness and plot them along the firmness scale.
More Mattress Terminology
We can't talk about firmness level without addressing a few other critical mattress characteristics. The following terms and concepts all relate to firmness. Understanding them will help you identify what you need from your mattress for comfortable, healthy sleep.
Support
While interconnected, the level of support a mattress provides and how soft or firm it feels are two different factors. Firmness level refers to how hard or soft a mattress feels, while support refers to a mattress's ability to hold up your body and keep your spine aligned.
That said, if your mattress's firmness level is far off enough from what your body type and sleep position require, it can jeopardize spinal alignment. For example, if you sleep on a mattress that's too soft for your physique and sleep position, you may sink too far into the bed, allowing parts of your spine to dip out of alignment. In this situation, choosing the wrong firmness level becomes an issue of support.
Pressure Relief
Pressure relief refers to a mattress's ability to redistribute your body weight across its surface, preventing pressure from building up around the heaviest parts of your body. Whether it's soft or firm, a high-quality mattress will provide pressure relief.
Contouring
Contouring refers to a material's moldability and response to pressure. When you lie down on a contouring mattress, the surface responds to your weight and molds around your curves, providing cushioning comfort.
By nature, softer mattresses contour deeper and more easily than firmer mattresses. As previously mentioned, a mattress's firmness and supportiveness are interconnected, making contouring another important factor to consider when searching for your ideal sleep setup.
Meanwhile, how closely a mattress contours to your body primarily depends on the mattress material. Keep in mind that all mattress materials come in a range of firmness levels, which we'll discuss later in this article. In general, memory foam hugs your body the closest. Nolah AirFoam™ contours gently, cushioning your joints without making you feel "trapped" in the mattress. Latex mattresses have a more buoyant feel; they're highly responsive but don't contour as closely.
Memory foam has a unique chemical composition that makes it react to temperature in addition to pressure. Also known as viscoelastic polyurethane foam, memory foam contains heat-sensitive viscoelastic chemicals that make the foam more flexible. However, adding these hash chemicals has drawbacks. Memory foam tends to trap heat and isn't as durable as other foams.
On the other hand, temperature-neutral materials like Nolah AirFoam™ and natural latex do not contain viscoelastic chemicals and only respond to your weight and movements, not heat. In turn, you'll experience consistent firmness and contouring regardless of the temperature outside or how much body heat you give off while you sleep. While memory foam retains body heat, breathable AirFoam™ and natural latex dissipate heat for cooler sleep.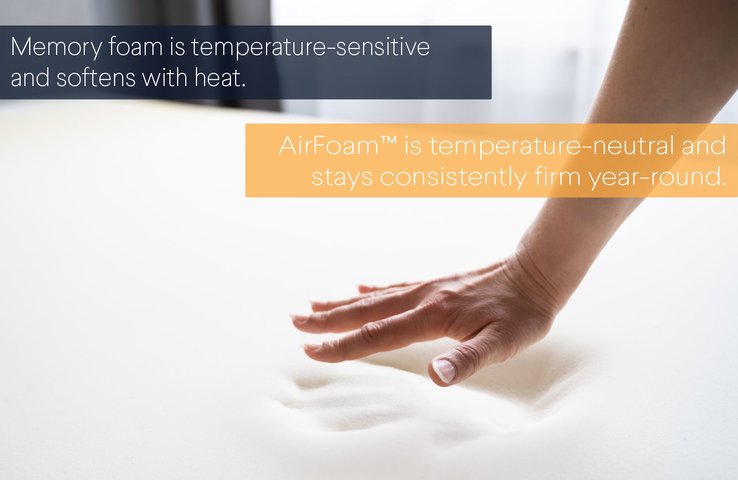 Factors for Finding Your Perfect Mattress Firmness
Now that you know more about mattress firmness and other interconnected mattress properties, you should start thinking about your unique sleeper profile and what you'll need from your bed for healthy, comfortable sleep. To find the firmness level that suits you best, consider these critical factors.
1) Your Weight Group
Remember earlier in this guide when we said the mattress firmness scale is a useful, but imperfect tool? Here's why: the firmness scale identifies how a mattress feels, an ultimately subject metric. Mattress firmness is also relative. Two people lying side by side on the same mattress will experience its firmness differently, depending on their physique.
How a mattress feels to you depends on two factors: how much you weigh—and thus how much pressure you put on the mattress)—and how resistant the mattress is to pressure. You can think about the relationship between a sleeper's weight and a mattress's firmnesses by envisioning this scenario:
Imagine two people lying on the same, medium firmness mattress. One person weighs 100 pounds, and the other weighs 200 pounds.
The person who weighs 200 pounds puts more pressure on the bed than the person who weighs 100 pounds and thus sinks further into the mattress. For that individual, the mattress will feel soft, and it may depress deep enough that their spine falls out of line. If that's the case, the mattress doesn't provide enough support and may cause soreness and pain.
Meanwhile, the person who weighs 100 pounds won't sink much into the mattress, if at all. They'll likely perceive it as firm and may find it uncomfortable because the surface doesn't flex beneath their weight. If they want a mattress that cushions them and contours to their curves, they'll need a softer option.
2) Your Sleep Position
Why does sleep position matter? Each sleep position distributes weight and orients the spine differently. The mattress firmness level you need to keep your spine aligned depends on how you sleep and where the heavier parts of your body rest. Our Sleep Position Guide explores in depth what each type of sleeper needs for proper support.
Firmness Level Finder Chart
With a better understanding of how weight and sleep position both dictate your mattress firmness needs, you can consider these factors together. We developed the chart below to help Nolah mattress shoppers choose between our mattress models. These values may not align perfectly with the scales used by other mattress brands, but it still provides a useful guide for shoppers.
Under 130 lb
4-7
130-230 lb
5-7
230-300 lb
5.5-7
300-350 lb
6.5-8
Under 130 lb
4-7
130-230 lb
5-7
230-300 lb
5.5-7
300-350 lb
6.5-8
Under 130 lb
5-8
130-230 lb
6-8
230-300 lb
6.5-8
300-350 lb
7.5-9
Under 130 lb
4-7
130-230 lb
5-7
230-300 lb
5.5-7
300-350 lb
6.5-8
Mattress Firmness and Mattress Materials
When buying a new bed, choosing a mattress type is another critical decision. Below, we discuss each mattress type and how they're constructed in varying levels of firmness. To learn more about the advantages and disadvantages of each mattress material, head over to our Mattress Type and Material Guide.
Foam Mattresses
Sleepers who prefer closer contouring and ample cushioning tend to choose foam mattresses. Because contouring requires flexibility and a bit of "give," foam mattress makers usually specialize in soft to medium-firm mattresses. If you want a mattress firmer than that, you'll likely prefer a latex or hybrid model.
For foam mattresses, firmness largely depends on the foam's density, among other factors. In general, the denser the foam, the more force is required to compress the surface. Foams with a lower density are more malleable and typically feel softer.
Today, most high-quality all-foam mattresses feature multiple layers of foam. Each foam sheet may have a different composition depending on its primary purpose. For example, the bottom layer of foam mattresses tend to have the highest density because mattresses need the most structure and stability at the foundation. Meanwhile, the upper layers (also known as the comfort layers) tend to be softer
for contouring and cushioning. That said, mattress companies give their models overall firmness ratings to guide shoppers.
Memory Foam vs. Nolah AirFoam™
A foam's chemical composition can also affect its firmness level. As previously mentioned, memory foam uses heat-sensitive viscoelastic chemicals to increase its flexibility. Because memory foam responds to both pressure and heat, it tends to sink deeper and feel softer than foams made without these chemicals.
Free from viscoelastic chemicals, Nolah AirFoam™ is 100 percent temperature neutral. Unlike memory foam, which fluctuates with the temperature, AirFoam™ maintains a consistent firmness level year-round.
Compared to deep-conforming memory foam, AirFoam™ offers gentler contouring. It cradles your curves and cushions your joints but doesn't sink so much that it misaligns the spine.
SHOP ALL-FOAM MATTRESSES
Latex Mattresses
Latex mattresses may have a reputation for being "too hard," but shoppers should know this is an inaccurate overgeneralization. Just like polyfoam mattresses, latex mattresses come in a range of firmness levels. They tend to skew to the firmer side, but shoppers can still find soft latex models. Like other foam mattresses, latex mattresses use multi-layer construction for maximized comfort and support.
To make latex mattresses, manufacturers whip the sap-like latex serum (tapped from rubber trees) into a foam. The molding and setting method used to process the latex determines the resulting foam's firmness.
While mattress companies and reviewers primarily use density to measure the firmness of polyfoam, they typically use impression load deflection (ILD) to assess latex foam. The list below estimates the mattress firmness scale equivalences for ILD measurements.
Super Plush: 14

Plush: 19

Soft: 24

Medium: 28

Extra Firm: 36-44
SHOP LATEX MATTRESSES
Innerspring Mattresses
With innerspring mattresses, the resistance from the coils and the material used on top determine the mattress's overall feel. Coil mattresses come in a range of firmness levels, but like latex beds, they tend to lean toward the firm end of the scale.
Many mattress shoppers only look at coil count to assess the quality of an innerspring bed, but this number doesn't provide the full picture. The type of coils used, their gauge (the coil wire's thickness), their tensioning, and zoning also determine how an innerspring mattress feels and how well it supports your weight.
Shoppers don't need to understand the exact physics of mattress manufacturing to find an innerspring mattress that fits their needs. As with the other mattress types, mattress brands give their models overall firmness level ratings to make the shopping process easier. But if you want to know a bit more about each factor that affects an innerspring mattress's firmness, see the chart below.
Coil Type
When it comes to coil type, mattress shoppers should beware of a common red flag: continuous coils. Many older innerspring mattresses use this design, which restricts responsiveness and motion isolation. Continuous coil mattresses also make a lot of noise and don't last as long as newer innerspring beds. Instead, opt for a model with individually-wrapped coils.
Coil Count
Coil count alone doesn't determine how much support a spring mattress provides, but it is a critical factor. Innerspring and hybrid mattress shoppers should look for models with at least 450 coils for a queen.
Gauge
Gauge refers to the thickness of a single coil. Coils with a lower gauge have thicker construction, resulting in a firmer mattress feel. Most mattresses use coils with a gauge around 12 to 15.
Zones
Hybrid and higher-end innerspring mattresses often feature multiple support zones, offering targeted relief. The coils in each zone are specially designed and tensioned to support specific regions of the body. For example, many zoned mattresses have enhanced support and a firmer feel around the lumbar area.
The material that sits on top of the innerspring mattress's coil system adds cushioning and contouring. This layer contributes to the overall feel of the bed, typically adding some softness. Most innerspring mattresses feature a pillow top or foam comfort layer, but they're thinner than those used for hybrid, all-foam, and latex mattresses. Coil mattresses typically have just one comfort layer, whereas other models have multiple.
Hybrid Mattresses
Hybrid mattresses typically feature the latest mattress technology, combining luxurious comfort layers with advanced spring support systems.
With numerous layers (the Nolah Evolution has seven), hybrid mattresses widely vary in firmness depending on their construction and the material used for the comfort layers. Shoppers will find polyfoam, memory foam, and latex hybrid models.
You can think of hybrid mattresses as a sum of their layers. The material type and firmness level of the upper-most layer determines how closely it contours to your curves, but all the layers underneath affect how the mattress feels and how well it keeps your spine aligned.
Despite the varying designs and advanced engineering used to craft hybrid mattresses, finding the right firmness level is straightforward. Again, mattress companies grade their models based on their overall feel, making it easy for shoppers to pick what suits them based on their sleep position and weight.
SHOP HYBRID MATTRESSES
Nolah Mattresses
Nolah currently offers five different mattresses models, including our flippable firmness kids' mattress and our deluxe AirFoam™ hybrid, which comes in three firmness options. Head over to our Mattress Comparison page to learn more about each model.
Excellent Fit:
Original
Original All-Foam Hybrid
Signature
Signature All-Foam Hybrid
Evolution Plush
Natural
Excellent Fit:
Signature
Signature All-Foam Hybrid
Evolution Plush
Natural
Good Fit:
Original
Original All-Foam Hybrid
Evolution Luxury Firm
Excellent Fit:
Evolution Luxury Firm
Natural
Good Fit:
Signature
Signature All-Foam Hybrid
Evolution Plush
Evolution Firm
Excellent Fit:
Evolution Firm
Natural
Good Fit:
Evolution Luxury Firm
Excellent Fit:
Signature
Signature All-Foam Hybrid
Evolution Plush
Evolution Luxury Firm
Natural
Good Fit:
Original
Original All-Foam Hybrid
Evolution Firm
Excellent Fit:
Evolution Luxury Firm
Evolution Firm
Natural
Good Fit:
Signature
Signature All-Foam Hybrid
Evolution Plush
Good Fit:
Evolution Firm
Evolution Luxury Firm
Natural
Excellent Fit:
Natural
Good Fit:
Evolution Firm
Excellent Fit:
Natural
Good Fit:
Original
Signature
Signature All-Foam Hybrid
Evolution Luxury Firm
Evolution Firm
Good Fit:
Evolution Firm
Natural
Excellent Fit: 
Evolution Plush
Natural
Good Fit:
Original
Original All-Foam Hybrid
Signature
Signature All-Foam Hybrid
Evolution Luxury Firm
Evolution Firm
Excellent Fit:
Natural
Good Fit:
Evolution Plush
Evolution Luxury Firm
Evolution Firm
Good Fit:
Evolution Firm
Evolution Luxury Firm
Natural
Excellent Fit:
Evolution Luxury Firm
Good Fit:
Natural
Looking for more options? Wired's guide to the Best Mattresses You Can Buy Online features a wide range of mattress types and firmness levels.
Frequently Asked Questions
Need help from a Nolah expert? Start a Live Chat below.
Disclaimer: Nolah does not provide medical advice. All resources on the Nolah blog, including this article, are informational only and do not replace professional medical counsel. Talk to your doctor about any health, mental health, or sleep-related issues.