What Is a Hybrid Mattress and Should You Buy One?
A hybrid bed is a premium option—it consists of a foam comfort system on top of an innerspring support core. Hybrids combine the best qualities of traditional innerspring mattresses with the contouring, pressure-relieving benefits of foam mattresses. Together, the multiple layers of a hybrid mattress make one ultra-supportive, durable, and comfortable bed.
If you're in the market for a new mattress, you may feel overwhelmed by your options. So, we created this guide to help you decide if a hybrid mattress is the right fit for you. We'll cover hybrid mattress benefits, who they're for, and what features set the best hybrid mattresses apart.
What Is a Hybrid Mattress?
Hybrid mattresses feature a support layer with innerspring coils AND foam or latex foam comfort layers on top. While the upper layers cushion and contour, the coils underneath elevate support, structure, and strength. Most modern hybrid mattresses use individually-wrapped coils, which also enhance responsiveness.
They are beds with several layers made of different materials—a combination of foam and coils in a single bed!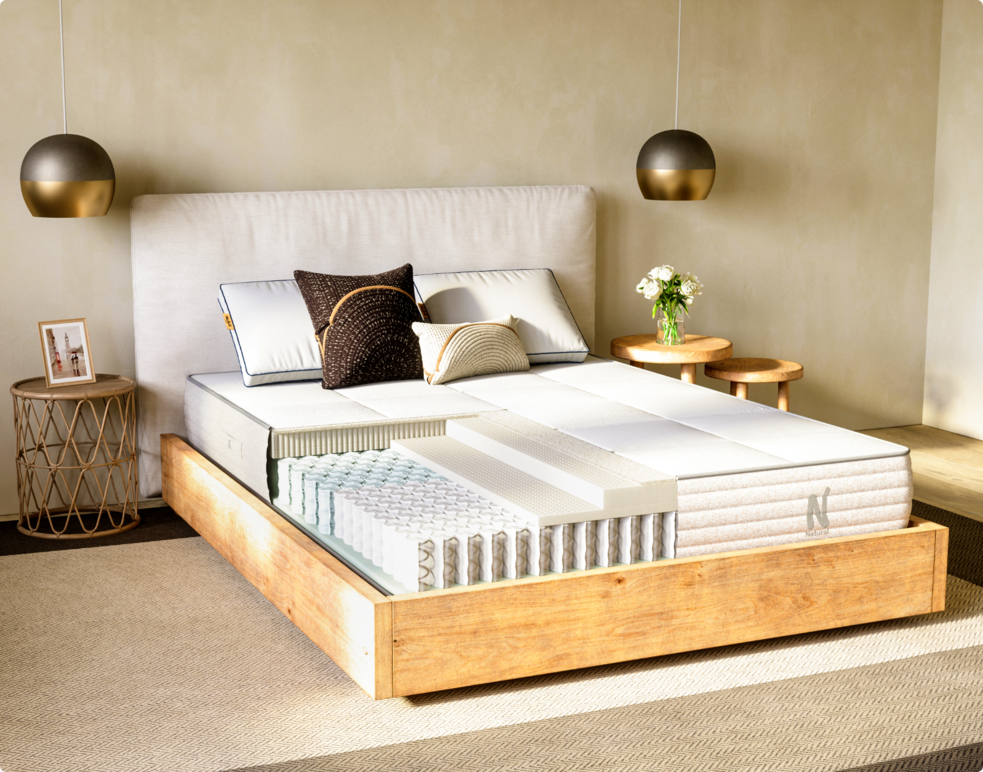 What Makes Hybrids Different?
With an innerspring mattress, you don't just sleep on a bed of cold metal springs. For obvious reasons, all mattresses have some sort of pillow top or soft sleeping surface. But what makes a hybrid mattress different from a standard innerspring mattress with an upholstered comfort layer on top?
Hybrid vs. Innerspring Mattress (Coil Spring)
With any mattress, you don't just sleep on a sheet of cold metal coil springs. All innerspring beds have an upper foam layer or other upholstered topper to create a soft surface. So, what's the difference between a standard innerspring mattress and a hybrid mattress?
While traditional innerspring mattresses have thin cushioning toppers, hybrids have multilayer construction. They feature numerous layers of foam or latex on top of the coils, providing contouring, cushioning, and pressure relief while contributing to the bed's overall support.
The two-in-one nature of hybrids also solves a common complaint with outdated innerspring mattresses: poor motion isolation. Modern hybrids have numerous foam layers and more advanced, flexible coils to prevent motion transfer. Hybrid models that use responsive foam and individually-wrapped coils provide the motion isolation couples need for uninterrupted rest.
Hybrid vs. Memory Foam Mattress
Memory foam mattresses—particularly low-end options—tend to conform too deeply. While this may feel cushioning and comforting initially, it can misalign your spine and cause soreness if your mattress sinks too much around your joints and heavier regions. With coil reinforcement, hybrid mattresses provide better support, spinal alignment, and durability than memory foam beds.
Click here to learn why Nolah mattresses never use viscoelastic polyurethane foam (memory foam), even in our hybrid models. Instead, we use high-resilience, temperature-neutral AirFoam™ or natural latex.
Hybrid vs. Foam or Latex Mattress
For many sleepers, a quality foam or latex foam mattress offers the perfect amount of cushioning and support. Premium latex or all-foam mattresses like the Nolah Signature use multiple layers of high-resilience foam to relieve pressure and align the spine.
But there are also great reasons to spring for a hybrid mattress over an all-foam or latex model. The addition of coils provides even deeper support and enhances durability. This extra support is essential for many heavier sleepers, back sleepers, stomach sleepers, and anyone else who wants more structure from their mattress.
Advanced coil systems can also introduce zoned support, and they have better edge support than all-foam or latex mattresses.
Are They Better Than Latex, Coil Spring, and Foam Mattresses?
We get it—mattress shopping can feel like a challenge when you have so many options to choose from. If you're here, you likely want to know: are hybrid mattresses really better than the different types you've had before?
Remember, sleep is personal. The mattress type that works well for a friend may not be the best fit for you, and it's worth it to do a little research and find what suits your body type, sleep position, and budget.
While we can't definitively say if a hybrid mattress is better for you than a coil, foam, or latex mattress, we can point out what makes them unique. It's their two-in-one design that makes hybrid mattresses so appealing to a wide range of sleepers. They consist of a foam comfort system on top of an innerspring support core. In other words, you get the benefits of both mattress types in one balanced bed.
Should You Buy A Hybrid Mattress?
Now that you know the basics, let's take a closer look at how hybrids perform, what they're made with, who they're best suited for, and how much they cost.
Hybrid Mattress Pros and Cons (The Bottom Line)
Pros
The Best of Both Worlds– Hybrid mattresses combine the best features of an innerspring mattresses with the best features of a foam or latex mattress.

Custom Comfort– The multilayer design of hybrid mattresses allows mattress brands to mix and match materials and features. They also come in a range of firmness levels. With endless options, you can find a hybrid mattress customized to your body type, sleep position, and additional needs or preferences.

Lifespan– Hybrid mattresses are highly durable, outlasting most other mattresses.
Cons
Price– Due to their multilayer design and loaded features, hybrid mattresses are generally more expensive than other types of mattresses. However, they last longer and may suit your budget when you look at it long-term.

Weight– Hybrids weigh more than other beds, making them harder to move.
Hybrid Mattress Construction: What They're Made Of
Every hybrid mattress is different. For example, the coil construction, comfort layer materials, and number of layers can all vary between hybrid mattress models. However, the basic structure is always the same: a coil support layer reinforces comfort layers above. We take a closer look at these layers below.
Hybrids are beds with several layers made of different materials.
Comfort (Top) Layers
As the term "comfort layers" suggests, the main purpose of the top layers is to provide cushioning, contouring, and pressure point relief. However, they also contribute to the bed's overall support.
Hybrid mattresses typically use memory foam, polyfoam, or latex foam for the upper layers. An entry-level model may have two comfort layers, but higher-end hybrid mattresses often have three or more. Depending on the materials used and the density and thickness of each comfort layer, a hybrid mattress can come in almost any firmness level.
Why We Don't Recommend Memory Foam (Viscoelastic Foam)
As previously mentioned, Nolah hybrids never use memory foam. Yes, a memory foam hybrid will provide more support than a standard memory foam mattress—but we still don't recommend it.
Why? By nature, memory foam (including memory foam with gel) uses viscoelastic chemicals to achieve its flexibility and "memory." Unfortunately, these chemicals trap body heat. They also make the foam less durable and its firmness susceptible to ambient temperature changes.
To avoid these side effects, we don't use viscoelastic polyurethane foam in our mattresses. All Nolah models, including our hybrids, use cooler and more durable foams free from viscoelastic chemicals. For example, the Nolah Natural uses Talalay latex for its responsiveness, strength, and breathability.
A Support Core Made of Innerspring Coils
Most modern hybrid mattresses use individually-wrapped coils rather than a continuous coil, which is common in outdated innerspring mattresses. Each coil stands independently, which improves responsiveness, motion isolation, and durability. The coils are wrapped in fabric sleeves for protection and to dampen noise.
Between hybrid mattress models, the coil count, height, gauge (thickness), and tensioning vary, which affects the mattress's overall firmness and supportiveness. Premium hybrid mattresses may also have reinforced perimeter coils for stronger edges or zoned coils, which provide targeted support in the areas that need it most.
A Blend of Two Different Mattress Types
Put the comfort layers and coil support core together, and you get a premium hybrid mattress! If you're curious what a hybrid mattress looks like from the inside, check out the Nolah Evolution's layer breakdown below.
Hybrid Mattress Cost and Pricing
Hybrid mattresses are a premium option, and since they combine the features of foam mattresses and innerspring mattresses, they do cost more. However, hybrids are more durable, meaning your new mattress will last longer, providing more value over time.
Our latest look at top online mattress brands shows that the average foam hybrid mattress costs $2,014 for a queen. This compares to $1,320, the average price for a queen foam mattress without coils.
Is A Hybrid Mattress Worth It?
Given their higher price point, you're likely wondering—are hybrid mattresses worth it? For many sleepers, the balanced cushioning and support that only a hybrid mattress can offer is well worth the investment for quality, pain-free sleep.
For Who?
Anyone looking for a combination of contouring, pressure relief, and deep, responsive support will find comfort in a hybrid mattress. Hybrids are also particularly well suited for these sleeper profiles:
For Sleepers with Back Pain
Hybrid mattresses provide deep, spine-aligning support. Hybrids—especially models with zoned coils—are an excellent fit for sleepers across sleep positions who struggle with back pain.
For Heavier Sleepers
Many heavier sleepers need the support and structure of coils to properly align the spine all night long. For plus-size sleepers, opting for a hybrid is the ideal way to get the necessary support without sacrificing cushioning and contouring. Nolah now offers a premium hybrid mattress designed for bigger builds, the Nolah Evolution Comfort+.
By Sleep Position
Side Sleepers– Many side sleepers love all-foam mattresses, but others prefer hybrids for their deeper support and enhanced durability. Side sleepers particularly benefit from hybrids with zoned coils that provide extra relief around the shoulders and hips where a side sleeper's weight is concentrated. It depends on your weight, but most side sleepers who opt for a hybrid mattress choose the plush or medium firmness options.

Back Sleepers– In terms of firmness, back sleepers need a mattress right in the middle. A medium to medium-firm hybrid mattress will provide that perfect balance, offering both contouring and deep support.

Stomach Sleepers– Stomach sleepers need heavy-duty mattresses to keep their spine neutrally aligned in the prone position. Firm hybrid mattresses provide the support stomach sleepers need while offering a cushioning sleep surface.
For Sleepers Who Need Supportive Edges
A hybrid is an excellent fit for any mattress shopper looking for optimal edge support. For example, you may share your bed with a partner and need maximum surface area. Or, you could be a senior who sits on the edge of the bed for easier access. For anyone who in need of heightened edge support, a hybrid mattress with reinforced perimeter coils will suit you best.
For Sleepers with Neck Pain
Paired with the right pillow, a hybrid mattress can be a great solution for sleepers with neck pain. The heavy-duty coil support core promotes spinal alignment and the foam upper layers provide pressure relief, which may help alleviate neck pain.
Hybrid Mattress FAQ
Do Hybrid Mattresses Ship in a Box?
It depends on the manufacturer. At Nolah, we ship all our hybrid mattresses compressed in a box.
What's the Best Foundation for a Hybrid Mattress?
Most hybrid mattresses work best with platform bases, either solid or slatted. While you may be able to use a bed frame and box spring for your hybrid mattress, platforms provide more structure and support than box spring setups. You should always consult your mattress manufacturer's specifications before choosing a base.
Are Hybrid Mattresses Compatible with Adjustable Bases?
It depends on the hybrid mattress's coil design. If you own a hybrid mattress, see the manufacturer's base recommendations before setting it up with an adjustable bed frame. At Nolah, we use flexible individually-wrapped coils for our hybrid mattresses, making the Nolah Evolution, Natural, and Nurture compatible with adjustable bases.
How Long Do Hybrids Last Compared to Latex, Memory Foam, and Other Mattresses?
Lifespan depends on the construction and quality of the materials, but most quality hybrid mattresses last about 10 years. However, a hybrid can last well over a decade if you buy a premium model and take care of it right. Because hybrid mattresses have so many layers and blend mattress technologies, they last longer than standalone memory foam, foam, latex, and innerspring mattress.
Two-in-One Comfort with Hybrid Technology
Hopefully, this guide has helped you determine if a hybrid mattress is right for you! For those interested in this advanced, multilayer mattress type, head to our Hybrid Mattresses Page to learn more about Nolah's hybrid options. We also offer the Original and Signature for those who prefer the all-foam mattress feel.
Disclaimer: Nolah does not provide medical advice. All resources on the Nolah blog, including this article, are informational only and do not replace professional medical counsel. Talk to your doctor about any health, mental health, or sleep-related issues.
You May Also Like These Articles
Don't Sleep on Exclusive Offers
Sign up for our newsletter, and you'll be the first to know about discounts, deals, and what's new at Nolah.