What Is a Split King Bed?
Ready to upgrade to a bigger bed? A king-size mattress offers plenty of room for couples, leaving both sleepers ample space to stretch out. There's even enough wiggle room for a pet to join you in bed or for your kids to climb in for family movie night. But a king mattress isn't your only option for a super-sized bed. You may also want to consider a split king bed made up of two twin XL mattresses for better motion isolation and more versatility.
King Mattress vs. Split King Mattress
King Mattress
King mattresses are 76 inches wide by 80 inches long, providing 42.2 square feet of sleep space. They're the same length as queen mattresses but 16 inches wider, so you get an extra 8.8 square feet in surface area.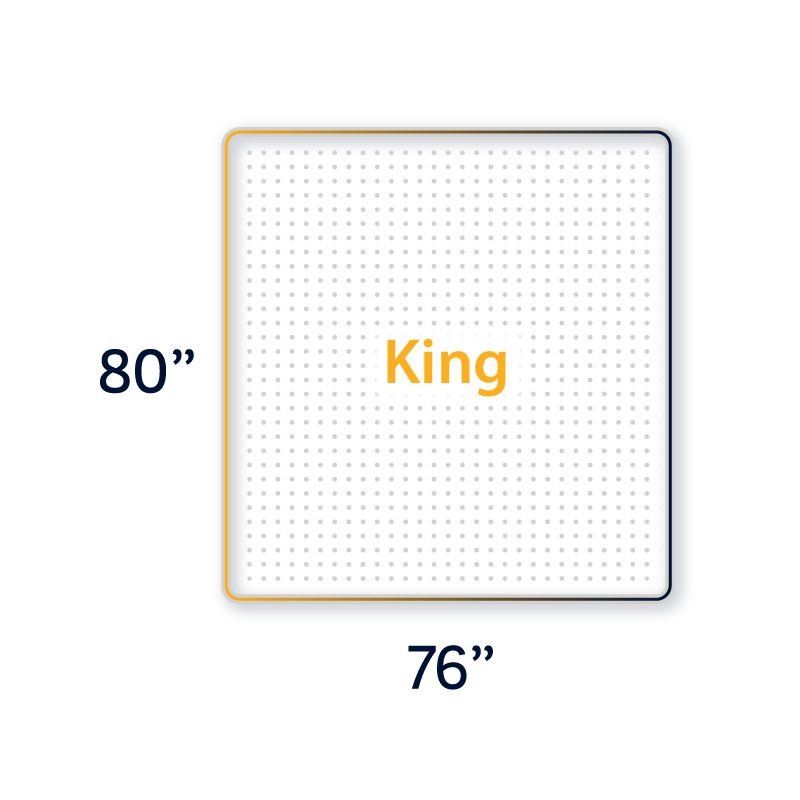 Split King Mattress
A split king bed consists of two twin XL mattresses positioned side by side on a standard king-size or split king base. Each twin XL mattress measures 38 inches wide by 80 inches long, totaling 76 inches wide by 80 inches long when arranged side by side—the same dimensions as a standard king mattress.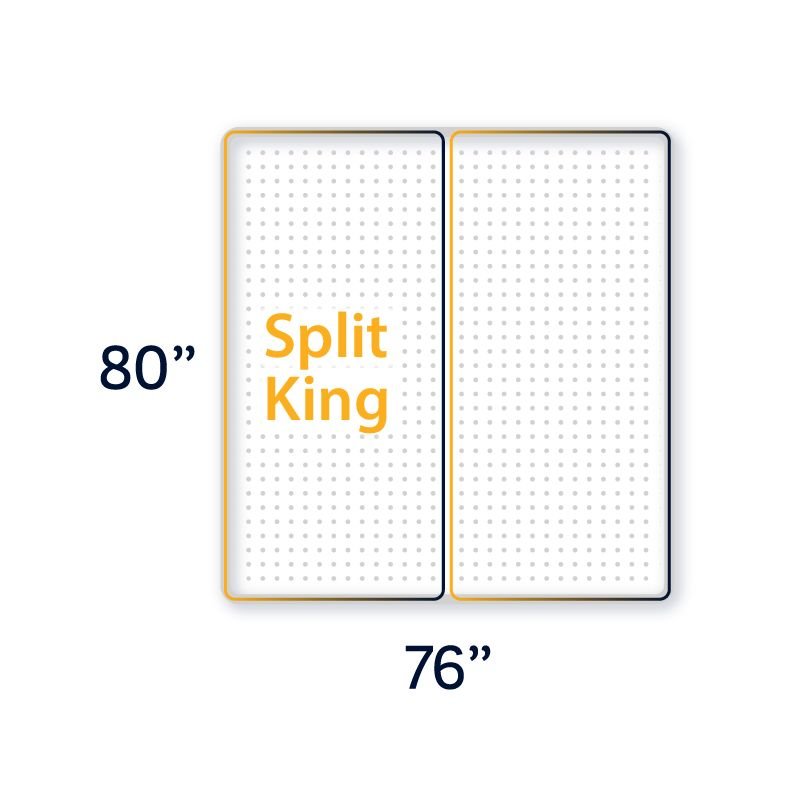 Basic Guide to Mattress Sizes
Need help choosing the right mattress size for your sleep needs and bedroom dimensions? Head over to our complete Mattress Size Guide or see a summary of each option below.
A twin bed is 38 inches wide and 74 inches long. It's a perfect size mattress for children, teens, and small spaces.
A twin XL mattress is 38 inches wide and 80 inches long, great for taller children and young adults. It's the standard mattress size for college dorms. If you're a single sleeper and have limited bedroom space, a twin XL mattress could suit your needs.
Single adult sleepers will find the dimensions of a full mattress comfortable at 54 inches wide and 75 inches long. Growing teens will also get many years of comfy sleep from a full mattress.
Queen is the most popular mattress size in America. It is 60 inches wide and 80 inches long and great for couples who sleep close.
A king-size bed is ideal for couples who enjoy plenty of individual sleep space. At 76 inches wide and 80 inches long, couples or single sleepers who have children or pets will enjoy the space of a king-size bed.
Split king beds are made up of two twin XL mattresses, which together have the same dimensions as a standard king. This setup offers better motion isolation for couples and lets you use a split adjustable base.
California king mattresses have slightly less surface area than standard kings, but they're longer, making them ideal for tall sleepers who want to stretch out or anyone who sleeps with a pet at the foot of their bed. California kings measure 72 inches wide by 84 inches long.
What Are the Benefits of a Split-Size Mattress?
What's the point of a split king mattress setup if it has the same overall dimensions as a standard king? Forming one bed from two separate has noteworthy advantages for couples or anyone who shares a bed:
No Motion Transfer– Even the best mattresses have some degree of motion transfer. A split king bed eliminates the issue altogether by creating separate sleep surfaces. You and your partner sleep on two different mattresses, so you won't feel each other's movements.

Split Adjustable Base Compatibility– Split mattresses offer maximum versatility. If you use a split king mattress on a split king adjustable base like the Nolah Smart Adjustable Base or Nolah Adjustable Base, you and your partner can independently reposition your sides of the bed. That means one person can sleep flat while the other sleeps with their head elevated—whatever works for you.

Easy Setup and Moving– Two small mattresses are easier to handle than one large mattress. Split king mattresses are easy to set up, reposition, and transport.
Who Is a Split King Bed Best For?
Split king mattresses are ideal for couples who move around a lot and don't want to disturb one another in their sleep. They also make a great fit for couples with drastically different mattress preferences but still want to share a bed. Order two different twin XL mattress models and you and your partner can both have your choice of mattress type and firmness level. Make sure you choose mattresses of the same height to prevent creating a ledge between them.
What Kind of Base Should I Buy for a Split King?
To enjoy its full utility, you should pair your split king mattress with a split king adjustable base. This allows each partner to customize their side of the bed's head and foot elevation for maximum comfort. Adjustable bases can also help with snoring, blood circulation, and pressure relief.
Otherwise, you can use a standard king-size base because two twin XL mattresses add up to the exact same dimensions as a king mattress.
Best Split King Bedding
What size bedding do you use for a split king bed? It depends on the type of bedding you're purchasing.
You can purchase standard king-size options if you're looking for a comforter, duvet, duvet cover, or bed blanket. If you're ordering a sheet set, you'll need to choose one specifically made for split king beds because you'll need twin XL fitted sheets but a king-size top sheet. Opt for two separate twin XL mattress protectors to defend your mattress from stains, sweat, and general wear.
Split King Bed: Pros & Cons
Split King Pros
Split King Cons
No motion transfer between mattresses
A small gap between mattresses
Full compatibility with adjustable base
Costs slightly more than a standard king mattress
Lets you choose two different mattress levels
Bedding costs slightly more
Easier to set up and move
What Is a Split California King Mattress?
Now that you know all about the benefits of split king mattresses, you may be curious about other split bed options. You do have another choice: the split California king. However, these premium beds are harder to come by, as are bases and bedding to match.
Split California kings measure 72 inches by 84 inches total, which is narrower but longer than a standard king or split king. The individual mattresses that make up a split California king each measure 36 inches by 84 inches, which is not a standard mattress size.
Split King vs. Split California King Mattress
Split California kings offer the same motion isolation advantages for couples as split kings. By comparison, split kings are 4 inches wider and 4 inches shorter. If you're looking into a split mattress because you and your partner want to choose two separate mattress models or firmness levels, opt for a split king, not a split California king. Split kings comprise two twin XL mattresses, which you can purchase individually. On the other hand, 36 by 84-inch mattresses (half a split California king) aren't widely sold on an individual basis.
You May Also Like These Articles
Don't Sleep on Exclusive Offers
Sign up for our newsletter, and you'll be the first to know about discounts, deals, and what's new at Nolah.