Latex vs. Memory Foam: Which Makes a Better Mattress?
What's The Difference Between Latex and Memory Foam Mattresses?
Choosing the right mattress material is critical to creating your perfect bed. The material you pick not only determines how much you'll pay for your new mattress but also its feel, responsiveness, temperature, lifespan, and more.
If you've already decided that you want a cushioning mattress with better pressure relief than a traditional innerspring model, you may still feel torn between different foam options. This guide compares and contrasts two popular types of mattress foam: latex foam and memory foam. By the end of this article, you'll know the advantages and disadvantages of each and which material best suits your sleep needs.
What Is Memory Foam?
Memory foam's technical term, viscoelastic polyurethane foam, reflects the main ingredients used to make this mattress material. It primarily consists of polyurethane, an adaptable and durable polymer.
"Viscoelastic" refers to the chemicals manufacturers add to make memory foam more pliable. Viscoelastic chemicals give memory foam its signature flexibility, close contouring, and slow response. Essentially, they're what give memory foam its "memory" of a sleeper's curves. However, these chemicals have a downside. They trap heat and make the foam degrade faster.
Shoppers should know that these chemical additives make memory foam different from other polyurethane foams, also called polyfoams. Nolah's proprietary polyfoam blend, AirFoam™, does not contain viscoelastic chemicals. Without these chemicals, it lasts longer, sleeps cooler, and responds faster than memory foam.
What Is Latex Foam?
While some mattress companies use synthetic latex foam, all-natural latex makes more comfortable, more supportive mattresses. It costs more to produce, but most sleep experts recommend taking the natural route, so we'll focus on natural latex for the rest of this guide.
Latex foam's main ingredient comes straight from rubber trees. Farmers can tap natural latex—a white, sap-like serum—without harming the formidable trees. This makes latex a highly sustainable resource and a favorite among eco-conscious consumers and brands.
Most natural latex mattresses use either Talalay or Dunlop latex foam. Both materials use the serum from rubber trees, but manufacturers use different molds and setting methods to produce them. The resulting foams have slightly different compositions and feel, which you learn more about here. At Nolah, we prefer Talalay latex, but both options make excellent mattresses.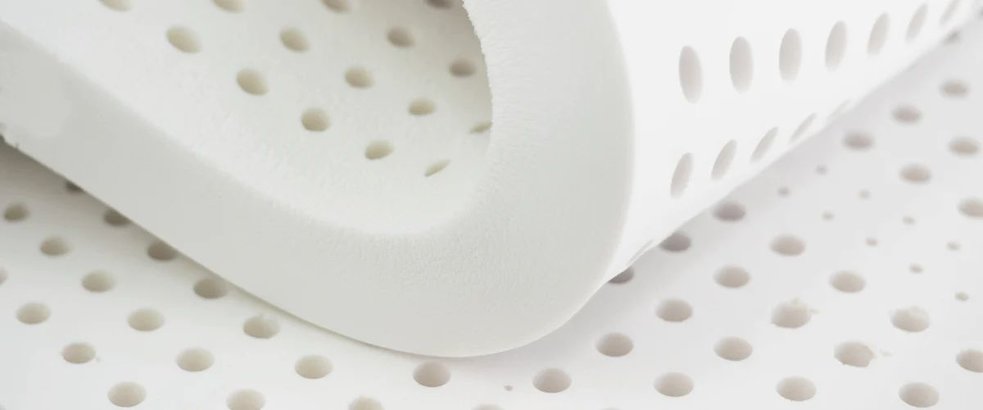 Latex vs. Memory Foam Mattress Qualities
Now that you know a bit more about latex and memory foam, you can take a deep dive to compare their features. Below, we've summarized how each material performs in critical mattress comfort categories.
Support
In terms of sleep health, "support" refers to how well a mattress stabilizes your body and keeps your spine in line. A mattress needs to provide enough resistance to hold your body steady with your back oriented in a neutral position.
How much support a sleeper needs depends on their weight and sleep position. Both latex and memory foam generally offer enough support for most sleepers, though latex outperforms memory foam because of its natural resilience and durability.
While latex suits all sleeper profiles, heavier individuals and stomach sleepers may find memory foam too soft and impressionable. If they sink too far into their mattress, it throws off their spinal alignment, causing soreness and pain.
Firmness Level
Winner: Personal Preference
Both latex and memory foam mattresses come in a range of firmness levels, though memory foam beds tend to err on the softer side and latex beds on the firmer side.
What gives a foam mattress its firmness?
Even if two mattresses use the same type of foam, they can differ in construction and thickness. Also, each layer of foam within a latex foam or memory foam mattress may use a slightly different formula and vary in density. In combination, these factors give each mattress model its unique feel and rating on the mattress firmness scale.
Feel
Winner: Personal Preference
They may vary in firmness, but mattresses made with the same type of foam have general characteristics in common. Memory foam has a plush, moldable feel that gives sleepers the sensation of sinking into their bed. Meanwhile, latex has a bouncy quality and makes you feel like you're "floating" on the mattress.
When it comes to feel, neither material is "better" than the other. Feel is subjective and a matter of personal preference.
Responsiveness
Winner: Personal Preference
In this category, latex and memory foam have the opposite characteristics. Again, neither quality is "better" than the other, but sleepers often have strong preferences one way or the other.
Latex instantaneously reacts to pressure and snaps back into its original form as soon as you remove your weight. This highly-responsive material has a signature bounce that's great for sleepers who shift positions frequently.
On the other end of the spectrum, memory foam retains its shape for a few moments after you remove pressure. According to Sleep Foundation, most memory foam takes about five to 10 seconds to return to its original shape.
Highly-responsive latex has a signature bounce that's great for sleepers who shift positions frequently.
Contouring
Contouring and responsiveness go hand in hand, with memory foam and latex having very different characteristics.
Memory foam is known for its close contouring. When you sink into the foam, the material clings to your curves, giving memory foam a "hugging" or enveloping quality.
Compared to latex and many other polyfoams, memory foam also sinks deeper. Because of this characteristic, shoppers need to be extra careful when choosing a firmness level. If the mattress is too soft for their body type, memory foam's deep conforming will throw off their spinal alignment. The feeling of being trapped in the mattress is a common reason for shoppers to seek memory foam mattress alternatives.
Latex offers gentler contouring than memory foam. The flexible material provides comfortable cushioning around your joints, but it doesn't hug your curves as closely or compress as deeply. As previously mentioned, latex's buoyancy gives the feeling of floating on top of the mattress, not sinking into it.
Pressure Relief
When you lie on a mattress, the heavier parts of your body and your bulkier joints bear the most pressure. It's your mattress's job to redistribute your weight, decreasing peak pressure in these areas.
Memory foam and latex both offer superior pressure relief to traditional innerspring mattresses. They cushion your joints and disperse your weight across the mattress surface, preventing pressure from concentrating around your shoulders, hips, back, and knees. However, studies show that latex foam generally offers more relief than polyurethane.
Temperature
Made with heat-sensitive viscoelastic chemical additives, memory foam responds to body heat, becoming more flexible as heat builds up within the foam.
Unfortunately, memory foam struggles to dissipate this warm air. With a less breathable structure than latex and many other polyfoams, memory foam traps heat, causing a lot of people to sweat in their sleep. Memory foam's temperature sensitivity also makes it fluctuate in firmness based on the climate.
Latex, on the other hand, is 100 percent temperature neutral. Without chemical additives, it doesn't react to body heat or environmental changes. Latex also has a highly breathable structure, letting air flow in and out and keeping the mattress fresh and cool. Many latex mattresses have a hole-punched design for even better breathability, allowing maximum circulation.
Motion Isolation
Memory foam has its shortcomings, but it excels in motion isolation. When you move or adjust your sleep position, your partner won't feel a disturbance from the other side of the bed.
Latex offers better motion isolation than innerspring mattresses, though not quite as much as memory foam and other polyfoams. Due to its bouncy nature, latex foam does transfer some motion.
Durability
When it comes to durability, latex foam is the clear winner. With proper care, a latex mattress can last for up to 20 years without losing structure and support. In comparison, quality memory foam mattresses typically last about seven to 10 years.
Edge Support
In general, foam mattresses don't provide as much edge support as high-quality innerspring and hybrid mattresses. That said, latex is stronger and more resilient than memory foam. That means it's more supportive across the board, including its edges.
Environmental Impact
Latex foam is made with all-natural latex serum, tapped from rubber trees without interrupting their growth. This sustainable material is also naturally hypoallergenic and completely biodegradable.
As you know, memory foam is a synthetic material containing chemical additives like the viscoelastic chemicals that give the foam its flexibility. Due to their chemical content, some memory foam mattresses produce ​​volatile organic compound (VOC) off-gassing.
Latex vs. Memory Foam: Side-By-Side Comparison
Quality
Latex Foam
Memory Foam
Come in a range of options,
usually on the firmer side
Come in a range of options,
usually on the softer side
Close contouring, deep conforming
Temperature neutral
and highly breathable
Contains heat-trapping chemicals
and has poor breathability
All-natural, sustainable,
and biodegradable materials
Contains harsh chemicals,
can off-gas VOCs
Final Considerations
Hopefully, this guide has pointed you to the mattress material that will provide the comfort and support you need for rejuvenating sleep. If you're still unsure which mattress type is best for you, remember that you have other options, like Nolah's proprietary polyfoam.
We offer three mattresses made with cooling, high-resilience Nolah AirFoam™, including our luxury Nolah Evolution hybrid. In terms of responsiveness and feel, AirFoam™ falls between bouncy latex and deep-conforming memory foam.
In lieu of latex mattresses, Nolah offers a latex hybrid, the Nolah Natural. This 11-inch mattress packs in an organic cotton cover, temperature-regulating wool, two layers of Talalay latex, individually-wrapped coils in three targeted support zones, and a stabilizing foundation layer. This premium mattress offers the very best sleep comfort and support that nature has to offer. Nolah also has a latex hybrid kids' mattress, the flippable Nolah Nurture. We also offer an ultra-supportive and responsive Talalay Latex Pillow.
Disclaimer: Nolah does not provide medical advice. All resources on the Nolah blog, including this article, are informational only and do not replace professional medical counsel. Talk to your doctor about any health, mental health, or sleep-related issues.
You May Also Like These Articles
Don't Sleep on Exclusive Offers
Sign up for our newsletter, and you'll be the first to know about discounts, deals, and what's new at Nolah.