How to Fold a Fitted Sheet
A fitted sheet has elastic corners so it fits all snug on your mattress making a cozy sleep space. However, folding it when it comes out of the dryer or off the washing line can be a nightmare, you frustratingly roll it up and toss it in the corner hoping to never see it again.
Learn to love folding fitted sheets with this handy guide. No more scrunched up wrinkled sheets invading your nightmares with this fool-proof method on folding a fitted sheet, so it stores nice and flat in your linen closet.
Need new sheets? Consider Nolah's premium Bamboo Sheet Set. These luxurious sheets are cooling, highly durable, and machine washable for easy maintenance.
What Is a Fitted Sheet, and Why Does it Matter How You Fold It?
A fitted sheet fits nice and snug on your mattress due to its elastic corners. It makes your bed super cozy so you don't have to deal with a flat sheet slipping off if you're an active sleeper. However, because the elastic is circular, folding it for storage can be a challenge and if it's not folded properly, it will be a wrinkled mess when you put it on your bed—not cool!
How to Fold a Fitted Sheet: Step-by-Step Guide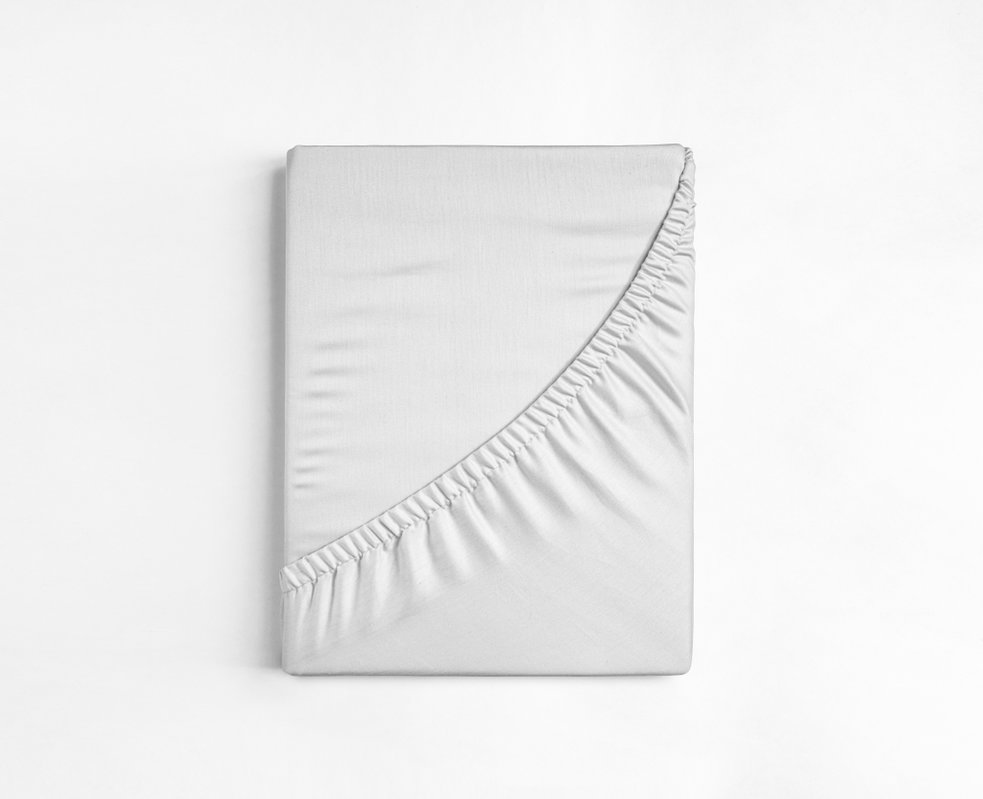 1) Spread Out the Fitted Sheet
Lay the fitted sheet on a flat surface, like you would with a flat sheet but with the elastic part on top. Smooth it out as best you can to prepare for folding.
2) Insert the Bottom Corners Into the Top Corners
The best way to fold a fitted sheet is to slip the bottom corners into the top corners. Even though the elastic is round, there are seams at each corner to guide you.
Fold the sheet in half like a crepe, slipping the 2 bottom corners under the two top corners. Allow the seams to guide you into place. Continue smoothing the sheet after you've folded the corners, you will end up with a rectangle-shaped sheet.
3) Fold Into a Rectangle Lengthwise
Now it's in a rectangle shape, you have a much easier shaped sheet to manage. Depending on the size of the sheet, you may have to fold it a few times. Smooth down the sheet and fold the bottom over the top or vice versa so you end up with an even shape.
4) Fold Inwards
Smooth the sheet with your hands so it's nice and flat. The sheet ought to resemble a hot dog shape so now you're going to fold it over inwards, twice.
Think of the sheet as if it's a good story, it has a start, middle, and an end. The left side is the start, the middle is, well, the middle, and the end of the sheet is the end of your sheet folding story.
Fold the left (or start) over onto the middle part of the sheet. Then fold the middle onto the last part of the sheet so it now looks nice and square.
FAQs
How Do I Fold Flat Sheets?
Folding bedsheets is incredibly easy and keeps your sheets wrinkle-free when you're ready to put them on your bed. To fold a flat sheet, simply fold it over so the top and bottom corners are touching. Then fold again so you're left with a stamp shape, smooth down, and store away.
How to Keep Fitted Sheets Tight
If your fitted sheet is coming loose, it may be too big for your mattress. However, there are sheet suspenders or sheet straps available that will clip under your mattress so it fits more tightly.
Conclusion
You're probably wondering, why on Earth do I need to fold fitted sheet, who cares? Taking care of your bedsheets means they're wrinkle-free when you put them on your bed. Know how often should you change sheets and how to probably care and fold them for the best sleep experience. Slipping into a warm bed that's wrinkle-free is super cozy and sleep-inducing, not to mention inviting.
Looking for more ways to upgrade your sleep setup and get more comfortable rest? Check out our guide to the Best Pillow for Neck Pain.
You May Also Like These Articles
Don't Sleep on Exclusive Offers
Sign up for our newsletter, and you'll be the first to know about discounts, deals, and what's new at Nolah.