How to Keep Your Mattress From Sliding: 4 Tips That Actually Work
Ever feel like you're sleeping on a magic carpet and wake up in a different location? That's what it's like sleeping on a stubborn mattress that doesn't know its place.
Your mattress can slide around its foundation for various reasons, it's a huge nuisance when the mattress keeps sliding but can be easily fixed. Let's learn how.
What Causes Your Mattress to Slide Around?
Lack of Friction: Memory foam and latex mattresses can have some trouble gripping to the bed base due to the nature of the material.

Missing Rails: Many bed frames are slightly higher than the slats to hold the mattress firmly in position, some frames lack these barriers and headboards that center the mattress on the frame mattress too big for bed frame.

Poor Support: An uneven bed base, such as slats being too far apart can create an uneven sleep space for your mattress.

Old Mattress: An old mattress (10 + years) harbors years of body oils and excretions, therefore, creating a sliding film under the mattress.
How to Stop a Mattress From Sliding
1. Rubber Matting
If your mattress slides off box spring an easy solution is to use a nonslip pad or rubber mat. You'll find these in DIY stores and are an inexpensive resolution to a wandering mattress. These are similar to what is used to keep rugs and carpets in place. Put under your mattress between the mattress and the bed base.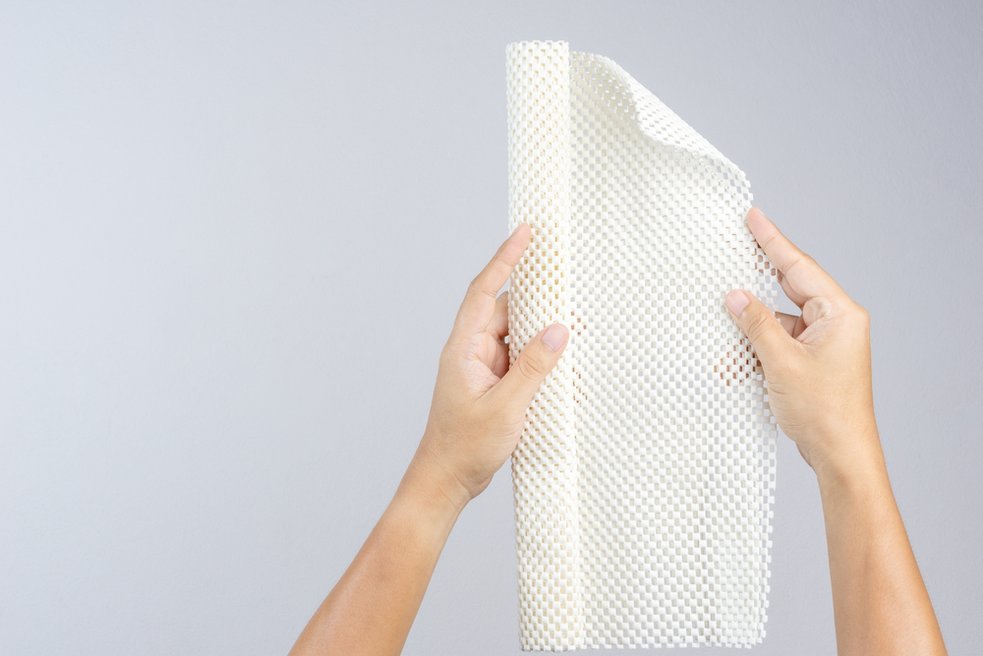 2. Velcro Strips
Velcro strips can prevent mattress from sliding and is a strong solution. The velcro strips have an adhesive on each side that sticks to the mattress and bed base, while the corresponding velcro side of the strips keeps the mattress in place. Double-sided carpet tape could work equally well as a short time solution.
3. Vacuum Under the Mattress
Using your upholstery brush attachment, vacuum every inch of your mattress, first the top and then flip the mattress over and vacuum the other side. A mattress that is some years old accumulates dust, skin cells, pet hair, and debris that can make the mattress slide around on its foundation. Vacuum under the bed and foundation too for best results.
4. Carpet Tape
If you have an unruly rug or carpet moving around, carpet tape is a tried and tested solution. It can also stop your mattress from sliding around too. Although best used as a short term solution because you don't want the tape to leave glue on your mattress or rip its threads.
How to Keep a Mattress From Sliding on a Metal Bed Frame
There are instances when carpet tape, velcro, rubber mats, and vacuuming is not enough and you're still plagued by a wandering mattress. Generally, when you're dealing with a metal bed frame, the best option is to install side rails. If you're feeling crafty you could make them yourself.
Elastic straps can be used as a mattress stopper. Remove the sheets and wrap the straps around the mattress and under the bed base. Is using a mattress topper, place the straps under the topper but be careful with some mattresses as the straps could leave dents in the foam.
How to Keep Your Mattress From Sliding on a Box Spring
When dealing with a box spring, velcro, carpet tape, rubber mats, and vacuuming may be the only option as it's not possible to put bed rails on a box spring. A nonslip mattress could also be a viable option if all else fails or placing your bed against the wall could help a little when your mattress slides off box spring.
How to Keep a Mattress From Sliding on a Platform Bed
To prevent mattress from sliding on a platform bed you must be using the correct bed base. If your mattress is too big for bed frame, it could cause it to slide around.
Anti-slip pads such as the ones used to keep carpets in place are a cheap but effective solution to when your mattress keeps sliding. Consider using mattress straps too but be mindful of the type of mattress you have, you don't want to leave permanent dents in a foam mattress.
Additional Tips on How to Keep a Mattress From Sliding
When your mattress doesn't fit bed frame, it can slide around and become a nuisance, especially if there are exposed slats in the bed that could scrape your legs every time you get out of bed. To prevent mattress from sliding consider:
Using velcro, rubber mats, carpet tape, or vacuuming the entire bed and frame.

If mattress doesn't fit bed frame, you may need to invest in a new base. Adjustable bases are a life long solution because they are made of metal and incredibly durable. Nolah's adjustable bases feature a metal mattress retainer bar to prevent your mattress from sliding when you adjust positions.

If your mattress is around 10 years old it may be more beneficial to your sleep health to invest in a new mattress that will provide greater comfort and more stability.
FAQs
How to Keep Memory Foam Mattress From Sliding
If your memory foam mattress keeps sliding, it may be because the mattress too big for bed frame. Other mattress stopper solutions include using carpet tape, velcro, and straps. However, these solutions may not be best for memory foam mattresses as they could damage the foam. An adequate bed base may prove more suitable.
How to Keep a Mattress Topper From Sliding
A quality topper like the Nolah Mattress Topper will stay put on your mattress, no matter how much you move. However, if your mattress topper doesn't feature corner straps or fit securely on your mattress, you can remedy the issue with a tightly fitted sheet.
How to Keep a Box Spring from Slipping Off the Frame
If you have a box spring, velcro, carpet tape, rubber mats, vacuuming, and placing your bed against the wall could be viable solutions to prevent mattress from sliding. If all else fails, upgrading to a nonslip mattress might be the remaining solution as rails cant be placed on a box spring.
Conclusion
Your sleep health is vital to your overall health and well being, have you ever woken up after a great night's sleep and felt indestructible? That's how you ought to feel every morning. If your mattress keeps sliding it could interrupt your sleep and give you insomnia, there's also the annoyance of having to adjust the mattress every morning when you get out of bed.
This is unnecessary stress that could irritate you. Try these helpful tips to make a mattress stopper, and hopefully, sleep better tonight.
Disclaimer: Nolah does not provide medical advice. All resources on the Nolah blog, including this article, are informational only and do not replace professional medical counsel. Talk to your doctor about any health, mental health, or sleep-related issues.
You May Also Like These Articles
Don't Sleep on Exclusive Offers
Sign up for our newsletter, and you'll be the first to know about discounts, deals, and what's new at Nolah.